Serie A Young Player 2018-19
Federico Chiesa, Fiorentina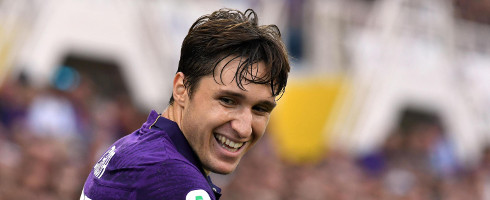 Federico Chiesa is only 21 years old, but already hit 100 Serie A games for Fiorentina and was decisive in avoiding relegation, claims Jay Cassano.
When it comes to young players, the 2017-18 season may ultimately be remembered for the Serie A debuts of future Italian stars Nicolò Zaniolo and Moise Kean. But when it comes to the most complete youngster, the campaign belongs to Fiorentina forward Federico Chiesa.
Chiesa has been lauded for the past couple of years as an emerging talent and a prospect, but this season is when he showed that he can make good on the promise and the hype. In the 2018-19 season, Chiesa's talents exploded beyond the blistering pace he's already known for. He combined guile and craft worthy of his surname with a much-needed dose of cynicism and pragmatism to get the job done.
Witness his brace against Torino, in which he scored both a scrappy rebound and an ingenious outside-of-the-boot strike that caught veteran goalkeeper Salvatore Sirigu off-guard.
From his favored right-wing position, Chiesa has all the ingredients of the modern wide man. He's not afraid of taking on players one-on-one, he can burn you down the flank, and he can pick out the right pass on a devastating counter-attack.
But Chiesa's contributions and maturity extend beyond his impressive stat sheet, which shows he scored 12 goals and provided nine assists across all competitions, including a memorable hat-trick to send Roma tumbling out of the Coppa Italia. Without his contributions, Fiorentina would almost certainly find themselves relegated this year.
More importantly, Chiesa has adapted to everything that's been thrown at him. He's done what's asked by two very different Coaches in Stefano Pioli and Vincenzo Montella. He's been deployed on the left wing, the right wing, as a second striker, and even as a wide midfielder. And he's worn the captain's armband — a very heavy piece of fabric that bears Davide Astori's number and initials. Most of all, he's done it with humility and poise.
If he weren't playing for a mismanaged Fiorentina side that utterly imploded during the final third of the season, it's likely he'd have even more to show for this year. But that won't deter his suitors, which include Juventus and Napoli as well as the likes of Liverpool, Manchester City and Manchester United. Chiesa is already a fan favorite at the Artemio Franchi, but it will be particularly hard to keep him in Florence now that clubs with money to spend have seen what he's capable of.
It's clear that Chiesa truly loves Fiorentina — maybe even as much as they love him — but he's also desperate to play in European competition, where he can really test how far he can go. Chiesa was right to stay in Florence to develop and grow without the pressure of a huge transfer fee. Now he's proved that he's ready for the next challenge.