Roma continue to prioritise growth over silverware, and Andrea Tallarita sees pros and cons in this approach.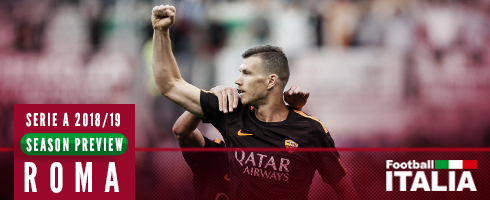 Club News - History - Records - Stadium - 2017-18 Review - 2018-19 Transfers
Steady as she goes for Roma
So much has changed, so little has changed. Roma offloaded two of their strongest and most iconic players over the summer, namely Radja Nainggolan and goalkeeper Alisson. Their core is no longer what it was, and will be further altered by the signing of a tactical game-changer like Javier Pastore.
In spite of this significant turnover, and odd though this may sound, Roma find themselves in almost exactly the same place as they did last year at this time. The gist of my preview for the 2017-18 season was that Roma had sacrificed quality in favour of depth, individual talent in favour of collective efficiency, and higher match-day potential in favour of season-long tactical flexibility, all the while keeping a very healthy financial outlook and investing heavily in youngsters.
It's tempting to simply copy and paste that article in its entirety, as almost everything still holds true today. A comparison of sporting director Monchi's moves over the last two summers reveals a very coherent strategy, pursued with impressive rigour.
That this strategy is also rather subtle accounts for the perplexity, not to say disappointment, of many tifosi. It has been argued that in spite of enjoying a hugely lucrative season, the Giallorossi have failed to significantly upgrade their squad. Some moves, like the sale of Nainggolan to Inter, were met with open outrage.
And yet there is a method to the madness. The 'Ninja' was without question an excellent midfielder, but by all accounts he was also a stand-out, a one-of-his-kind, tactically unique and irreplaceable. His sale makes sense in light of Monchi's philosophy, which is to build a team of players who are all effortlessly replaceable, even interchangeable with each other. That the sporting director is eschewing stereotypical 'big signings' demonstrates not a lack of ambition but a wholly different approach to the game.
Roma do not have a Cristiano Ronaldo, a Gonzalo Higuain, a Mauro Icardi. For all of Edin Dzeko's European heroics, he is not as central to his team as these other strikers are, and he may well end up sharing his playing time with young Patrik Schick. What the capitoline club do possess is one of the deepest squads in Serie A, specifically built to retain tactical integrity even in the most profound of injury crises.
It is impossible to overstate their flexibility. The Lupi have two full-backs per flank, plus Davide Santon, a Serie A veteran who can play on both sides. They have four centre-backs for two roles, plus Daniele De Rossi, who has shown excellent aptitude at covering the position. They have six players for three positions in the midfield, plus trump cards like Alessandro Florenzi and Ante Coric, who can comfortably slot anywhere in the centre. As for their wingers and strikers, most of them can swap positions at the drop of a hat.
Add one of the most impressive cohorts of talented youngsters in Italy, all ready to jump in where and when they are needed, and Roma's form becomes virtually unbreakable. Compared to their direct rivals, the Lupi have no outstanding strengths, but they also have no weaknesses. They'll be able to play all three of their competitions at full operational capacity, and Coach Eusebio Di Francesco will be able to rotate three players for almost every role.
If Monchi's strategy has remained consistent, so has its implicit risk. I make no apology for quoting myself from last year's preview: the advantage of such a supremely flexible squad is that it can retain its tactical system without compromises, but this is only a good idea if said tactical system is strong in the first place.
Thus, the team's success or failure will rest primarily on Di Francesco's ability to outfox the likes of Max Allegri, Carlo Ancelotti and Luciano Spalletti.
In this sense too, Roma are still at last year's starting blocks. The calciosphere abounds with pundits who claim to have 'figured' Di Francesco's style and tactics, but his debut season at Roma was uniquely contradictory, and fans should be wary of forecasts. The former Sassuolo Coach was consistently rigid and predictable with his 4-3-3 all the way until February, only to pull off an astonishing, unforgettable tactical masterpiece in his epic Champions League comeback against Barcelona in April.
Whether Di Francesco will turn out to be Dr Jekyll or Mr Hyde this year, or something in between, is a variable nobody has the instruments to predict, and this will truly determine the course of the season for the Lupi. What we can at least expect is that the club will continue on its excellent path of growth. Another Champions League semi-final may be too tall an order, but expect Roma to keep consolidating their tactics, developing their youngsters, enhancing their brand, and raising their financial clout. Now if they could finally start building that stadium...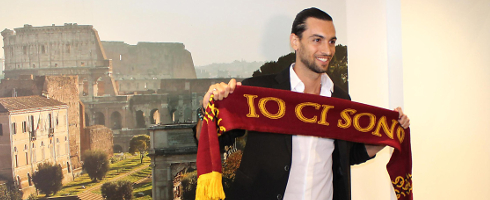 Key signing: Javier Pastore
Possibly the most pressing issue for Di Francesco's 4-3-3 last year was the absence of a true regista, who usually plays at the heart of such a formation. Pastore plugs that hole, and for this reason alone he should be able to greatly enhance Roma's collective play. An exception to Monchi's rule-of-thumb, the Argentine has no obvious replacements within the Giallorossi squad and for this reason must be kept injury-free.
Star man: Cengiz Ünder
Roma are a team specifically conceived to work without any one prima donna. Still, last season's 21-year-old revelation Cengiz Ünder will be expected to show great things now that he is an established starter. The young Turk has flair, speed, technique and bravado to spare, and could very well develop into one of Serie A's most lethal winger-strikers if he continues on his track.
Young gun: Justin Kluivert
Roma's youngsters are a Pick'n'Mix bowl, with at least six or seven players who have the potential to explode within a year or two. Since Ünder is already a known force, the man most likely to have an immediate impact this year seems to be the 19-year-old wonderkid from Ajax, Justin Kluivert. The boy is unbled in Serie A, but his skills already look frightening, and he can play almost anywhere in the final third. If he ends up as a permanent starter by the end of the season, we will be the last to be surprised.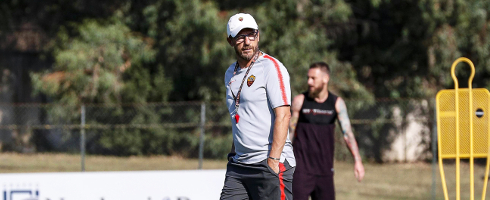 The Coach: Eusebio Di Francesco
Football Italia will profile Di Francesco in greater detail over the coming weeks, as he is one of the most intriguing Italian Coaches working now. The former Sassuolo mastermind is superb at developing young players and has strong personal links to the Roman scene, two features which make him perfect for the Giallorossi as they are now. His real tactical potential still seems difficult to assess though, as he showed both great rigidity and great flexibility last season. This campaign should finally dispel doubts as to what the soon-to-be 49-year-old can really do.
2017-18 prediction: Top four
Roma's priority remains long-term growth over immediate silverware, which means they are still not in a position to challenge the Juventus hegemony. Their starting XI is perhaps a little weaker than those of Napoli and Inter, but they have greater depth than either of those rivals. A placement between second and fourth in Serie A is to be expected, but where exactly will depend on the efficiency of Di Francesco's tactics, and for reasons already discussed, trying to predict that variable is guesswork at best.
As for the Champions League, last season's semi-final was an exceptional achievement which is unlikely to be repeated. Fans should be satisfied with the Last 16, and really hope for no more than a quarter-final.