Serie A 2019-20 Season Review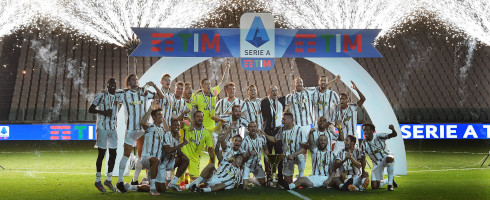 Juventus won a record ninth consecutive Scudetto, but made it tougher than usual under new coach Maurizio Sarri, as Lazio, Atalanta and Inter took it in turns to come close, but not close enough.
The trophy going to the Bianconeri was more or less the only thing that remained constant in this truly unique campaign. It was the longest Serie A season in history, as for a while it looked as if the COVID pandemic would shut it all early, eventually restarting in June to end on August 2. In a way, there were two different tournaments, one pre- and one post-lockdown, with some like Milan, Atalanta and Roma hitting their stride, while others such as Lazio, Verona and Lecce lost their way.
Brescia and Lecce lasted just one season in the top flight before going back down, joined by a SPAL side who turned their backs on the coach who got them there in the first place.
Relive the highs, lows and extraordinary in-between moments in Football Italia's season review of 2019-20.
How we'll remember 2019-20

It was the longest Serie A season, stalled and restarted amid a pandemic, but provided some of the normality Giancarlo Rinaldi was craving. Read more
Player of the Season - Papu Gomez

If Atalanta lit up Serie A and the Champions League, a lot of it is down to their captain and most representative player, as Kaustubh Pandey pays tribute to Papu Gomez. Read more
Capocannoniere - Ciro Immobile

Ciro Immobile equalled the Serie A record of 36 goals to become Capocannoniere for a third time in his career, but his Golden Shoe is what makes his season truly special, explains Vilizar Yakimov. Read more
Coach of the Season - Simone Inzaghi
While there were other candidates, especially post-lockdown, Simone Inzaghi still deserves the accolades for Lazio's Scudetto push, top four finish and trophies, writes Elio Salerno. Read more
Young Player of the Season - Dejan Kulusevski

When it came to picking the best young player of the season, Vijay Rahaman was torn in choosing 20-year-old Dejan Kulusevski. Read more
Team of the Season

Inevitably dominated by the top four teams, there were quite a few revitalised old hands in Richard Hall's ideal Serie A XI of 2019-20. Read more
Club by club review
Every Serie A side's campaign has been assessed by our team of experts, from the clubs who enjoyed record-breaking runs to those who endured forgettable form.
JUVENTUS - 1st - Pts 83 P 38 W 26 D 5 L 7 F 76 A 43

Juventus did the bare minimum to win their ninth straight Scudetto in a transitional season under Maurizio Sarri, despite a series of setbacks, writes Livio Caferoglu. Read more
INTER - 2nd - Pts 82 P 38 W 24 D 10 L 4 F 81 A 36

Inter hit statistics and point tallies not seen since the Treble campaign, but Antonio Conte and the fans were still frustrated at second place, writes Richard Hall. Read more
ATALANTA - 3rd - Pts 78 P 38 W 23 D 9 L 6 F 98 A 48

Atalanta inspired everyone both on and off the field this season, in Italy and Europe, as Owen Diana pays tribute to club that just keeps getting stronger. Read more
LAZIO - 4th - Pts 78 P 38 W 24 D 6 L 8 F 79 A 42

Lazio were arguably Scudetto favourites before the lockdown, but a compressed schedule highlighted their lack of strength in depth, writes Lee Bushe. Read more
ROMA - 5th - Pts 70 P 38 W 21 D 7 L 10 F 77 A 51

It was yet another season of chaos, both on and off the field, as Martin Mork analyses an ever-changing Roma landscape. Read more
MILAN - 6th - Pts 66 P 38 W 19 D 9 L 10 F 63 A 46

It was another season of chaos at Milan, writes Vijay Rahaman, with coaches, players, systems and directors coming and going, but might've finally settled on some consistency. Read more
NAPOLI - 7th - Pts 62 P 38 W 18 D 8 L 12 F 61 A 50

Napoli strayed too far from their identity under Carlo Ancelotti, a mutiny tore the club apart and Gennaro Gattuso steered the ship to a Coppa Italia triumph, writes Ciro Di Brita. Read more
SASSUOLO - 8th - Pts 51 P 38 W 14 D 9 L 15 F 69 A 63

They took a while to get into gear, but Roberto De Zerbi had Sassuolo playing some fantastic football by the end of the season, writes Michelle Bonsu. Read more
VERONA - 9th - Pts 49 P 38 W 12 D 13 L 13 F 47 A 51

Little was expected of Verona following promotion via the play-offs and no transfer budget, but Ivan Juric formed an impressive team, writes Gaspare Marsala. Read more
FIORENTINA - 10th - Pts 49 P 38 W 12 D 13 L 13 F 51 A 48

Fiorentina were capable of hitting great heights and devastating lows, often from one game to the next, writes Kaustubh Pandey. Read more
PARMA - 11th - Pts 49 P 38 W 14 D 7 L 17 F 56 A 57

Parma comfortably avoided relegation but were left to rue a post-pandemic collapse, which saw their push for European football falter, writes Livio Caferoglu. Read more
BOLOGNA - 12th - Pts 47 P 38 W 12 D 11 L 15 F 52 A 65

It was a long, tough season for everyone due to the COVID crisis, but Bologna had even more life or death situations to deal with, writes Susy Campanale. Read more
UDINESE - 13th - Pts 45 P 38 W 12 D 9 L 17 F 37 A 51

Sacking Igor Tudor and keeping caretaker Luca Gotti on longer than he anticipated, Udinese ultimately scraped survival again, writes Ciro Di Brita. Read more
CAGLIARI - 14th - Pts 45 P 38 W 11 D 12 L 15 F 52 A 56

It was an extraordinary start to the season for Cagliari after investing heavily for their Centenary year, but it all petered out, writes Martin Mork. Read more
SAMPDORIA - 15th - Pts 42 P 38 W 12 D 6 L 20 F 48 A 65

Sampdoria started with such high hopes, but the Eusebio Di Francesco experiment was a disaster and Claudio Ranieri salved their season, writes Rob Lambert. Read more
TORINO - 16th - Pts 40 P 38 W 11 D 7 L 20 F 46 A 68
| | | |
| --- | --- | --- |
| Torino's season was on a downward slide from the moment they lost the Europa League play-off and never recovered, writes Owen Diana. Read more | | |
GENOA - 17th - Pts 39 P 38 W 10 D 9 L 19 F 47 A 73

Another season, another flurry of coaching and personnel changes, another last-gasp avoidance of relegation, writes Lee Bushe. Read more
LECCE - 18th - Pts 35 P 38 W 9 D 8 L 21 F 52 A 85

Fabio Liverani deserves credit for sticking to his football philosophy and fighting to the bitter end in pure Lecce style, writes Susy Campanale. Read more
BRESCIA - 19th - Pts 25 P 38 W 6 D 7 L 25 F 35 A 79

Mario Balotelli was meant to inspire Brescia, but instead it presaged a chaotic campaign with three different coaches and an immediate return back to the second tier, Michelle Osei Bonsu writes. Read more
SPAL - 20th – Pts 20 P 38 W 5 D 5 L 28 F 27 A 77

It was one long slide into obscurity for SPAL this season, setting new negative club records and finishing rock bottom, writes Gaspare Marsala. Read more