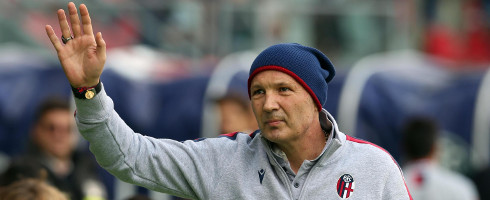 | | |
| --- | --- |
| | BOLOGNA |
Serie

A

Pts

P
W
D
L
F
A

12th

47
38
12
11
15
52
65
Coppa Italia: Round 4 / Team rating: [6/10] / Top scorer: Musa Barrow (8) / Europe: N/A
It was a long, tough season for everyone due to the COVID crisis, but Bologna had even more life or death situations to deal with, writes Susy Campanale.
Playing for Sinisa
During pre-season training on July 13, 2019, Bologna coach Sinisa Mihajlovic held a press conference. He very calmly informed everyone that he had been diagnosed with leukaemia, but would fight this, just as he had fought every other hardship in his life. "I explained to the players, we have to attack and go to win. If we sit back and try to defend, we'll get knocked down straight away. I have to use my tactics in this battle and I am sure, without any doubts, that I will win."
Mihajlovic could've been forgiven for quitting the job and focusing entirely on the difficult road ahead, but it was immediately apparent he needed the sport and his players every bit as much as they needed him. Months before everyone in the world started using video-conferencing technology to work from home, Sinisa was doing it from his hospital bed, watching training sessions and giving team talks. The nurses said they'd hear him shout through the walls as he told his squad what they were doing wrong.
He promised that he'd be on the touchline for their opening Serie A game of the season and, as he always does, kept his word. Rumours circulated he was being let out of the clinic for just a few hours, with social distancing and a protective mask, long before COVID-19 first reared its head. This frail figure stood and waved to the crowd at the Stadio Bentegodi in Verona, clearly trying not to get too emotional at the giant virtual hug he was receiving from the entire football community.
When Bologna were 3-1 down at Brescia on September 15, Mihajlovic could only give the team talk by telephone, but it worked wonders, inspiring his men to a comeback 4-3 victory. To thank him, they made the bus stop at the clinic where he was having chemotherapy and sang to him in the street outside, as he waved out the window. They were unbeaten and joint top of the table with Juventus.
The Rossoblu threatened to break into European places with wins over Atalanta, Roma and even Inter at San Siro, then fell away following the lockdown, perhaps inevitably emotionally drained from over a year of being on the edge. Mihajlovic has made a full recovery, is training with his squad and raring to start the next season in his rightful place, on the Bologna bench.
The coach – Sinisa Mihajlovic
He always was a warrior, on the pitch as a defender, on the touchline as a coach, and in life as a man. Those same elements that made him often infuriating were what ultimately gave him strength to fight the illness, that dogged determination to win at all costs and battle the enemy. He always could be a jerk, by his own admission, but that's what he needed to keep going. As he said in that press conference when the doctor said he was otherwise absolutely fine: 'I'm not, I'm p***ed off.'
Player of the Year – Musa Barrow
The 21-year-old Gambian striker is yet another product of the Atalanta academy who is already achieving amazing things with the benefit of regular playing time. Barely a substitute in Bergamo, Bologna paid €13m to get him in January and the gamble paid off, as he was their joint top scorer with nine goals in just 18 games. Imagine what the tall, quick hitman will be able to do with a full season under his belt.
Highlight – Inter stunned
Antonio Conte's Inter thought they were cruising to victory at San Siro in Week 30 with Romelu Lukaku's tap-in and Roberto Soriano sent off on 57 minutes, even though Lautaro Martinez saw a penalty parried by Lukasz Skorupski. Nobody saw the comeback coming, but the Gambian forwards Musa Juwara – with his first Serie A goal – and Musa Barrow turned the game on its head in just six minutes.
Nightmare – Hammered by Milan
There had been signs the squad was emotionally exhausted and desperate to just end this long, tortuous season, but a 5-1 defeat at Milan in July was absolute proof Bologna were spent. Aside from a Takehiro Tomiyasu scorcher, they just didn't turn up at San Siro.
Did You Know?
Bologna set a new all-time Serie A record by conceding in 33 consecutive matches, shattering the 31 set by Hellas Verona from 1992-97.
The Rossoblu have won four of their last eight Serie A trips to Inter.
No team in Europe's top five leagues had as few clean sheets as Bologna this season: two.