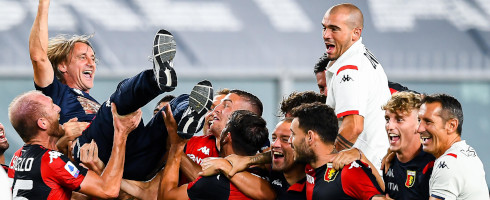 | | |
| --- | --- |
| | GENOA |
Serie

A

Pts

P
W
D
L
F
A

17th

39
38
10
9
19
47
73
Coppa Italia: Round of 16 / Team rating: [4/10] / Top scorer: Goran Pandev (9) / Europe: N/A
Another season, another flurry of coaching and personnel changes, another last-gasp avoidance of relegation, writes Lee Bushe.
Genoa chaos drags on
For the second season running, Genoa left it until the last day to avoid relegation. Last year, they only stayed up by virtue of having a better head-to-head record than relegated Empoli, while they survived this year thanks to their 3-0 defeat of Hellas Verona, their joint-biggest win of the season.
Having finished 16th, 17th and 17th in three out of their last four seasons, it's clear that something is rotten at this football club. Genoa's fans seem to think so too, as they've been protesting against owner Enrico Preziosi for years. Indeed, staying up is hardly an achievement in a league where the disparity between established sides and newly-promoted clubs is increasingly evident.
At the start of the season, having fired Cesare Prandelli, Preziosi brought in Aurelio Andreazzoli. The Tuscan tactician had nearly kept Empoli up the previous year - which would've been quite an achievement had he pulled it off - all the while playing an electrifying brand of football. But, as with most of Genoa's coaches, he wasn't given enough time to implement his ideas, having been sacked after just eight games, with the Grifone in the relegation zone, having won just one of their matches.
This might've been forgivable had he bought in a seasoned manager to steady the ship. He didn't. In came Thiago Motta, whose only experience up until that point was managing Paris Saint-Germain Under-19's. Naturally, the appointment didn't work out, and he was dismissed after two months in charge with Genoa at the foot of the table.
Preziosi tried to replace him with Davide Ballardini, who Preziosi previously dismissed in October 2018, despite having won four of his eight opening games, branding him a terrible coach. Ballardini understandably refused to come back unless Preziosi apologised. Thus, Davide Nicola - the man who most notably kept Crotone up in 2016-17 - was appointed.
Nicola has done his job. Amassing 28 points from 21 fixtures, he has secured Genoa's place in Serie A for the following season. It's only a matter of time, however, before manager-eater Preziosi finds a reason to sack him too, and the cycle repeats.
This is the reason why Genoa are where they are. It's not like they aren't spending money. They cannot expect to make any progress as a club if managers aren't given time to impress their vision on the squad. Constant upheaval brings regression, which is precisely what has been happening to Il Grifone.
Overall, staying up amid the chaos is satisfactory. But Genoa cannot continue to be run in this fashion, they might not be so lucky next season.
The coach – Aurelio Andreazzoli/Thiago Motta/Davide Nicola
Davide Nicola has only improved his reputation in recent months. He took a Genoa side who were bottom of the table, four points away from safety with 11 points from 17 games, and kept them up by a margin of four points. If the table had been decided based on points gained since his appointment, Genoa would be 11th. In the process, he earned an impressive win over Milan, held Atalanta to a draw in Bergamo and won Genoa's first Derby della Lanterna in four years. He clearly has a lot of affection for the club too, describing keeping Il Grifone up as a "debt" he had to repay for the amount of "joy" their fans gave him during his time here as a player in the 1990s.
Player of the Season – Domenico Criscito
Like Nicola, Domenico Criscito is someone who understands what it means to represent the Rossoblu. He claimed to have turned down Champions League clubs and teams that could offer him higher wages so he could return to Genoa in 2018. This season was something of an Indian Summer for him. Genoa's designated penalty taker, he converted a total of nine this term, while also scoring a solitary goal from open play. With eight in Serie A, he's the league's highest-scoring defender, while he also finished the season as Genoa's top-scorer in all competitions.
Highlight – Derby della Lanterna
The Derby della Lanterna is one of Italy's most exciting derbies and Genoa hadn't won any of them for over four years. In fact, they had only four out of the 16 derbies contested in the past decade, despite the relatively similar standing they and Sampdoria have had during that time. This, alongside the fact that they were struggling in the league, made this derby victory all the sweeter. Genoa took the lead in the 22nd minute through a calmly taken, but powerfully struck penalty through Criscito, before Manolo Gabbiadini equalised for Sampdoria 10 minutes later. Il Grifone's derby hero turned out to be Lukas Lerager.
Nightmare – Sassuolo surrender
When playing Sassuolo, the game can go one of two ways. Either their ferocious attack puts a few past you, or you take advantage of their fragile defence to get a few past them. In this case, Sassuolo recorded the biggest win of the season by thumping Genoa in the penultimate game of the season. I Neroverdi had punished an unfocused Genoa defence, effortlessly putting five goals against them. In typical Grifone style, they beat Hellas Verona 3-0 the following week to avoid relegation. This sequence of results perfectly sums up Genoa's season: inconsistent.
Did You Know?
Genoa have been through seven different coaches since Gian Piero Gasperini's departure in 2016: Ivan Juric (in three separate spells), Andrea Mandorlini, Davide Ballardini, Cesare Prandelli, Aurelio Andreazzoli, Thiago Motta and Davide Nicola.
The Rossoblu conceded 73 goals this season, a new club record in a single Serie A campaign.
Genoa received a total of ten red cards this season, more than any other club in Serie A