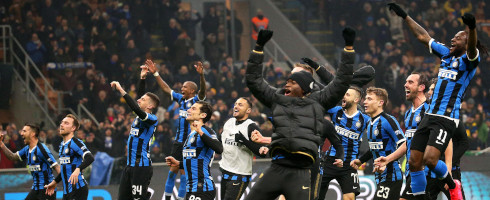 | | |
| --- | --- |
| | INTER |
Serie

A

Pts

P
W
D
L
F
A
2nd
82
38
24
10
4
82
36
Coppa Italia: Semi-final / Team rating: [7/10] / Top scorer: Romelu Lukaku (23) / Europe: Champions League group/Europa League R16
Inter hit statistics and point tallies not seen since the Treble campaign, but Antonio Conte and the fans were still frustrated at second place, writes Richard Hall.
Inter's great expectations
'I realise I bring high expectations, but not all I touch immediately turns to gold.' These were the words of Antonio Conte after his side defeated Napoli in the penultimate game of the season. It was an interesting summary from the coach who, despite finishing second in the table, has had what can only be called a 'stormy' campaign with the press. He was right, the expectations on Inter were high, from the club, the media and the fans alike. Whilst the Nerazzurri have not pushed Juventus as hard as they would like, the improvement is vast and there needs to be patience and a dose of reality.
Inter didn't just improve, they amassed as many points as Jose Mourinho's Treble-winning team of 2010 and climbed from fourth place to second. To understand expectations, one has to look back and in this case that was to the season preview, written by myself. This way one can truly comprehend just how the feeling was back in September, what was hoped for and just what Conte said he would do. This was to improve on last year, finish in the top three, show signs of good football and offering consistency. One would have to say he achieved that.
'Hard work and respect', these were the words of the new coach in his first training session. This is what he wanted and that is what he got from his players. Straight from the start, Conte and director Beppe Marotta purged the team, ejecting the likes of Ivan Perisic, Radja Nainggolan and the infamous Mauro Icardi. With the 'bad apples' gone, the coach then worked on his style of football, aggressive, high tempo, pressing and direct. His team certainly took to that level quickly and his first 20 games saw 13 wins, six draws and only one loss to Juventus. The football was exactly as he wanted it and the partnership between Romelu Lukaku and Lautaro Martinez was blossoming into one of the best in Europe.
Between January and the start of the pandemic and the eventual break, the players did start to look tired and there were some games where the consistency was not there and neither was the finishing. Conte bemoaned Inter not being clinical enough and it seemed that whilst the wheels had not come off entirely, the 'Pazza' element still remained. Before the break, the title was realistically conceded as they lost to both Lazio and Juventus in underwhelming fashion. Conte may not have admitted it, but the lockdown came at the right time.
On returning to football, on paper it seemed Inter had performed admirably with eight wins, four draws and one defeat putting them comfortably in second place. Things were not easy, however, especially in June and early July, as Inter went from almost perfect to bizarre all in one game and on many occasions. The performances were so surreal that Conte looked baffled. Despite this, they finished the season in a strong manner, one point off the leaders, and can genuinely challenge Juventus next term.
There were other positives throughout the season that the management will be happy about. Samir Handanovic had another superb season, albeit the need for a strong second choice will be high on the agenda. Alessandro Bastoni's development in defence was astonishing as he went from novice to elite before our very eyes. Milan Skriniar may have struggled at times with the three-man system, but Stefan de Vrij held the torch and had an exemplary campaign. Stefano Sensi was superb before his injury and Nicolò Barella will take great heart from his performances, whilst Marcelo Brozovic was consistent. The partnership of Martinez and Lukaku was certainly the pick of the bunch, as it blossomed ideally.
Finally, and just as importantly, it was what Conte managed to get out of the players many had dismissed in their minds. Antonio Candreva was a revelation, he looked lean, fit and was vastly improved, so he certainly enjoys playing under Conte. Danilo D'Ambrosio also looked in his best shape, showing he is now also a very good centre-back on the right of a back three. Roberto Gagliardini got a lot of bad press and yet Conte stuck with him and he now looks like a very good squad player. Cristiano Biraghi also improved, grabbing himself a number of assists. Finally, Alexis Sanchez was re-born after injury and looked like the player he once was, proving to be a huge asset for the team.
It is true that this season was not perfect. Christian Eriksen still struggles to find form and forced a change of tactics to accommodate his role. Players like Daniele Padelli, Borja Valero and some others look like they have played their final game and the 'Pazza' hasn't gone completely. Conte rankles the press, as they do to him, and at times Inter look like they are only ever three games away from a crisis. Overall, however, this has been a successful campaign and one that, with some successful acquisitions, could see them push Juventus to the very brink next season.
The Coach - Antonio Conte
Antonio Conte improved Inter into a team that can play high octane, attacking football, score goals and are defensively solid. By his own words, this is a three-year project and whilst it is obvious that so much is expected of him, he is not panicking. Working with Beppe Marotta, the blueprint they have is taking shape and it would not be hard to see Inter pushing Juventus all the way next term. He perhaps still needs to be more tactically adaptable and many will always claim his European record is up for debate, but for where Inter are at this moment in time, he is the man for the job.
Player of the Year - Romelu Lukaku
Romelu Lukaku is the first Inter player since the Brazilian Ronaldo to score over 20 goals in his maiden Serie A season. He arrived in Milan with the right attitude, the right hunger and all the qualities to become a superlative player. His partnership with Lautaro Martinez has been fantastic, he looks like he has been playing for Inter for more than just one year. He has proved that the money was well spent and gives the team a great optimism that they are always a danger when moving forward.
Highlights - Derby comeback
It is February 9, the Derby Della Madonnina. Inter are on a 15-game unbeaten run and off the back of a 2-0 away win against Udinese. Confidence is high, but at half time, the Nerazzurri find themselves 2-0 down to Milan, courtesy of goals from Ante Rebic and Zlatan Ibrahimovic. What Conte said in the dressing room during the break certainly worked. Goals from Brozovic, Matias Vecino and De Vrij put Inter 3-2 ahead before Lukaku finished the their rivals off in the 90th minute. It was a comeback that will live long in the memory and showed what resolve Inter have started to build.
Nightmare - Derby comedown
The worst two moments came directly after the Derby win. From such highs came such lows. The momentum and nature of the win against Milan should have allowed Inter to face Lazio and Juventus with confidence. Maybe it was tiredness or maybe over-confidence, but the 2-1 defeat in Rome was followed up by a 2-0 result behind closed doors in Turin. This effectively killed off Inter's title race, if not by points, but by belief. If these results had gone differently, Inter would surely have pushed Juventus all the way.
Did You Know?
This is the first time in the three points for a win era that Inter have amassed over 79 points without taking the Scudetto.
Third choice goalkeeper Tommaso Berni received the most red cards for Inter in the league this season (2), despite not playing a single minute of football.
Only once before had the Nerazzurri picked up at least 13 Serie A away victories, with 15 in 2006-07.