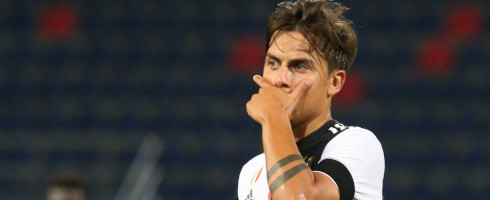 | | |
| --- | --- |
| | JUVENTUS |
Serie

A

Pts

P
W
D
L
F
A

1st

83
38
26
5
7
76
43
Coppa Italia: Final / Team rating: [6/10] / Top scorer: Cristiano Ronaldo (31) / Europe: Champions League R16
Juventus did the bare minimum to win their ninth straight Scudetto in a transitional season under Maurizio Sarri, despite a series of setbacks, writes Livio Caferoglu.
Juve do just enough
On the surface, Juventus had a successful season, as they won their ninth straight Scudetto. Yet go deeper and you'll find that only told part of the story. Some would argue they performed admirably, adapting quickly to new boss Maurizio Sarri and his methods. Others thought they were lucky to retain their Serie A crown, capitalising on their rivals' inability to put up a proper title challenge. Either way, fears of a transitional campaign were allayed, even if it took them 36 matchdays to be reconfirmed as champions.
There were no doubts about Juve's dominance in Serie A, as per their eight Scudetti won under Antonio Conte and Max Allegri, but the time had come for a change. Not only did they want to remain Italy's best team, but now they wanted to do it in style, also believing their pragmatic approach was holding them back from lifting the Champions League. The Old Lady plumped for Sarri, who had just led Chelsea to Europa League glory but - just two years ago - was trying to topple them with Napoli.
Juve made several personnel changes over the summer, with Joao Cancelo and Leonardo Spinazzola making way for Danilo and Luca Pellegrini at full-back, Merih Demiral replacing Martin Caceres, Gonzalo Higuain reintegrated at Mario Mandzukic's expense and both Aaron Ramsey and Adrien Rabiot brought in on free transfers. However, the biggest deal saw them shake off competition from Barcelona, Paris Saint-Germain and Manchester United to land defensive prodigy Matthijs de Ligt from Ajax for around €85m.
With Jorginho not following Sarri to Turin, Miralem Pjanic became the fulcrum of Juve's play, as the coach instructed him to 'touch the ball 150 times per game'. The initial results disappointed as the Bianconeri mustered just a penalties victory over Inter in their three International Champions Cup friendlies, but they were back to their former selves in time for the Serie A kick-off, beating Parma 1-0 away from home and following up with a dramatic 4-3 win against Napoli, courtesy of Kalidou Koulibaly's last-gasp own goal.
Barring draws with arch-rivals Fiorentina and Atletico Madrid in the Champions League, Juve hit form with seven straight wins between September and October, most notably inflicting a 2-1 home defeat on Conte's Inter. The result suggested a close contest, but the visitors were far superior, in their most Sarri-like showing yet. The match also signalled the second coming of Paulo Dybala in a Juve shirt. The forward almost joined Tottenham Hotspur, but went on to enjoy his best season for the club with 31 goalscoring contributions.
Juve suffered their first real setbacks in December, twice losing 3-1 to Lazio to not only miss out on the Supercoppa, but also lose leadership of the table to their opponents, yet they kept grinding out wins and were back at the top by March, having just done the double against Inter with another devastating Dybala display. The title race was gearing up to be Serie A's most heated in years, with Lazio just a point behind, until the coronavirus pandemic paused the campaign for three months.
Lazio faltered badly following the restart in June, whereas Juve managed four straight wins after the disappointment of their lost Coppa Italia Final to Napoli, culminating in a 4-1 thrashing of Torino in the Derby della Mole. That was the moment Scudetto No 9 was secured, with Atalanta entering the fray too late and Inter continuing to drop points at crucial junctures. Yet the two clubs were still in with a shout of dethroning the Bianconeri until Week 36 after Milan and Udinese staged stunning comebacks.
The title was finally rubberstamped in late July with a 2-0 win against Sampdoria, but defeats to Cagliari and Roma in their two remaining matches meant Juve would return the lowest points tally of their Scudetto sequence in 2019-20 (83) and lose seven times – their most ever in a 38-game, title-winning season. On the flip side, Cristiano Ronaldo became the quickest player to reach 50 Serie A goals in modern history as he netted in 11 consecutive games at the turn of the year, despite turning 35 in February.
Sarri did what was asked of him in his first season, turning Juve into more daring champions, but his approach had far from the desired impact on their defence, which was the leakiest to win the Scudetto in 60 years. Nevertheless, he should be given the necessary time to work on blending the best of both worlds. Furthermore, the Old Lady are still in the Champions League, albeit a goal down in their Last-16 tie with Olympique Lyonnais, and may yet turn an ordinary season by their standards into an extraordinary one.
The Coach - Maurizio Sarri
Eyebrows were raised when Maurizio Sarri, for so long a rival with Napoli, succeeded Max Allegri as Juventus' coach last summer. Despite Sarri being a purveyor of exactly the kind of football Andrea Agnelli craved, it wasn't always plain sailing as he struggled to impose his attractive brand of attacking football on the Bianconeri's hardened battlers. Although the two domestic cups were lost, he delivered them their ninth straight Scudetto and he will now be expected to pair style with substance next season, particularly in the Champions League.
Player of the Year - Cristiano Ronaldo
Cristiano Ronaldo may have turned 35 in February, but he showed he is still very much at the peak of his goalscoring powers. Despite some teething issues at the start of Sarri's reign, he didn't look back after December, netting in all-but-six of Juve's Serie A 25 games that followed, not appearing in two of those. Ronaldo finished the campaign with 31 Serie A goals, not enough to dislodge Ciro Immobile as Capocannoniere, but a clear statement that he's far from finished at the top level.
Highlights – Derby d'Italia
Inter may have moved significantly closer to Juventus in 2019-20, but the Bianconeri still did the double against them in Serie A. A victory for Antonio Conte's side in the second fixture would've closed the gap on his former club at the top, but Aaron Ramsey and Paulo Dybala had other ideas. The pair combined brilliantly for the second goal, with the Argentine toe-poking home after some angelic close-control. The result brought Juve back to the top of the table, where they stayed for the rest of the season.
Nightmare – San Siro collapse
Several teams found it difficult to recapture their rhythm after lockdown and Juve were certainly one of them. Losing the Coppa Italia Final to Napoli, they thought they had turned a corner with four straight wins and looked like making it five against Milan when Cristiano Ronaldo sent them 2-0 up at San Siro. Yet the Rossoneri came thundering back with a four-goal salvo in just 18 minutes, inflicting revenge on Juve for the away goals defeat in the Coppa Italia semi-finals and almost reopening the title race.
Did you know?
Juve returned the lowest points tally of their Scudetto sequence in 2019-20 (83).
Cristiano Ronaldo became the only player in history to score 50 goals in Serie A, La Liga and the Premier League.
Juve lost seven times – their most ever in a 38-game, title-winning season.