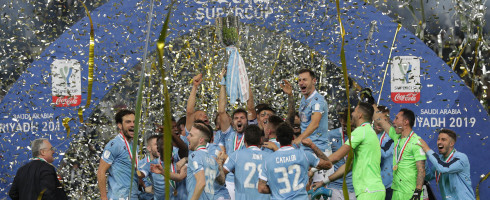 | | |
| --- | --- |
| | LAZIO |
Serie

A

Pts

P
W
D
L
F
A
4th
78
38
24
6
8
79
42
Coppa Italia: Quarter-final / Team rating: [8/10] / Top scorer: Ciro Immobile (36) / Europe: Europa League Group
Lazio were arguably Scudetto favourites before the lockdown, but a compressed schedule highlighted their lack of strength in depth, writes Lee Bushe.
COVID ruined Lazio chance
On reflection, few supporters can complain about where Lazio finished this season. There is a sense of disappointment that, having been within touching distance of first place back in February, they weren't able to maintain their Scudetto challenge. It's important to remember, however, that Champions League qualification was always the goal and in the end, it was achieved very comfortably.
What's more, it's been a historic season for Lazio. Not only did they qualify for Europe's elite competition for the first time in 13 years, they also ended the campaign with their highest ever points total, while their talisman, Ciro Immobile, equalled Gonzalo Higuain's record for the most Serie A goals scored in a single season.
These achievements seem more impressive when you consider that this Lazio side could only finish eighth last year. Indeed, the Biancocelesti paid the price for their inconsistency by completely missing out on the European places in 2018-19, which they only gained back thanks to their Coppa Italia victory.
The 2019-20 journey started in very much the same way, with Lazio winning just two of their five opening games. All that optimism gained from winning the Coppa Italia was fading away, with fans preparing for another underwhelming season.
Then, from late September onwards, Lazio kicked into gear. Starting with a 4-0 thumping of Genoa, Simone Inzaghi's side would go unbeaten for 21 games, winning 17 and drawing four. They beat Juventus 3-1 - twice - once in the league and once in the Supercoppa Italiana. The Biancocelesti seemed unstoppable. Utterly devastating going forward and solid at the back, they were emerging as surprise Scudetto contenders.
On February 29, Lazio were within a point of first-placed Juventus, but the coronavirus pandemic was already gripping Italy by that point. Sporting events were soon halted and wouldn't return until June - with the caveat being that no supporters would be allowed into the stadiums. The postponement of football snapped Lazio's momentum and on their first game back, they lost 3-2 to Atalanta, ending their unbeaten run.
Nevertheless, it was an extraordinary, if somewhat inexplicable run. How could a team who only finished eighth last season and who were known for their inconsistency, go unbeaten for 21 matches? The explanation, actually, is rather simple. Inzaghi has played the same way, with virtually the same team, for three seasons. The result of this was that his system was perfected and that his group of players were all on the same wavelength. They understood deeply how each other played and had a close bond, which was evident in the way that they played and the way that they celebrated with each other.
This can only get you so far when you have an injury crisis and a lack of quality in depth, which proved to be Lazio's undoing post-restart. This wasn't an issue when they had an excellent starting XI, didn't care about the Europa League and were only playing one game a week. Now they were playing up to three. This meant Inzaghi had to use his mediocre players more often and that his better ones were always shattered.
Lazio lost six of their remaining 12 games post-restart and ended the season in fourth place - five points away from champions Juventus. A sharp decline like that would've been devastating in a normal season, but of course, it was far from normal. The pandemic had put things into perspective, and when it comes down to it, football results don't matter all that much. Supporters were just glad to see this great Biancocelesti team take to the pitch again, providing a semblance of normality in these uncertain times.
The Coach – Simone Inzaghi
After years of mercenaries and chopping and changing, Lazio have found a manager in Simone Inzaghi who possesses a deep affection for the club, has provided a sense of identity to a team who were sorely lacking it, and has overseen considerable progress on the pitch. Largely sticking to a 3-5-2 formation and the same starting XI, Inzaghi has built on the success he brought with the Coppa Italia last year by transforming Lazio into Scudetto contenders, giving eventual champions Juventus a good scare. Going forward, however, Inzaghi will need a bigger budget if they are to sustain themselves as a top-four side.
Player of the Year – Ciro Immobile
It's a privilege to watch someone develop into an icon, a legend of the Italian game, right before your eyes. Rest assured, Ciro Immobile will be a player spoken of in the bars of northern Rome for decades to come, about how effortlessly he could dribble past defenders, about how he could score from any angle, about how powerful that right foot of his was and becoming the third Italian to win the European Golden Shoe. Immobile is now on 125 goals in 173 appearances in the Aquile jersey. For comparison, Giorgio Chinaglia, a Lazio icon in his own right, scored 122 in 246 appearances. The Campania-born striker only needs 24 goals to overtake Silvio Piola as Lazio's all-time top scorer - a feat which shouldn't be too difficult for a man who scored 36 goals this season.
Highlight – Supercoppa success
Amid Lazio's 21-game unbeaten run, they had a Supercoppa Italiana to play. They were facing Juventus, who they had beaten 3-1 just two weeks earlier. Though their power has somewhat waned this season, beating the Old Lady is always an impressive achievement, especially when you consider that they have far more money and, therefore, talent than the Biancocelesti. So Juventus would've been keen to avoid a repeat of that humiliation, even more so considering when it was Maurizio Sarri's first opportunity to win a trophy and win over sceptical supporters. But it wasn't to be. Lazio beat them 3-1 again, picking up their second Supercoppa Italiana in three years.
Nightmare – Milan end the dream
After their unbeaten run was ended at the hands of Atalanta in the first game following the restart, Lazio had earned solid, if unspectacular, wins against Fiorentina and Torino. It seemed at that point, that the Atalanta game was an outlier, but their loss against Milan, and defeats in three of their next four matches, proved that wasn't the case. The absence of Immobile through suspension seemed to sap the confidence from Inzaghi's side. Their defence was fragile and mistake-prone, while their attack was completely toothless. Lazio were beaten 3-0 at their own ground, which effectively ended their Scudetto chances and sent their confidence plunging even further.
Did You Know?
Simone Inzaghi's side earned 78 points this season, their highest ever points total for a single campaign. Their previous record was 72, gained in 1999-00 and 2017-18.
Lazio also beat their record for the most wins earned in a single season, with 24. Previously, their record was 21, which they achieved in 1999-00, 2000-01, 2014-15, 2016-17 and 2017-18.
Ciro Immobile equalled Gonzalo Higuain's record of 36 Serie A goals, but while the Napoli man converted three penalties in 2015-16, the Lazio striker scored 14.