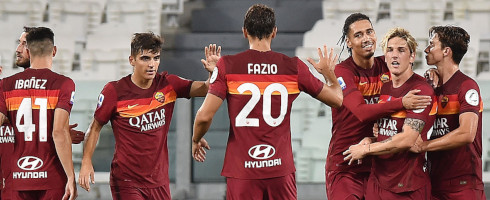 | | |
| --- | --- |
| | ROMA |
Serie

A

Pts

P
W
D
L
F
A
5th
70
38
21
7
10
77
51
Coppa Italia: Quarter-final / Team rating: [6/10] / Top scorer: Edin Dzeko (16) / Europe: Europa League R16
It was yet another season of chaos, both on and off the field, as Martin Mork analyses an ever-changing Roma landscape.
Roma rollercoaster
Roma started the season on a positive note, lost their way, found it again and ended with the arrival of new owner Dan Friedkin. It's rarely dull reporting on the Giallorossi and this was a typically chaotic campaign, both on and especially off the field.
They made big changes for the 2019-20 campaign with Portuguese coach Paulo Fonseca promising attacking and entertaining football in his debut Serie A experience. It was to prove the end of an era for so many reasons, as after Francesco Totti, then Daniele De Rossi was pushed out to end his career in Argentina with Boca Juniors and a frustrated Alessandro Florenzi joined Valencia on loan in January. When he saw Davide Santon and Leonardo Spinazzola preferred at right-back, his departure became inevitable.
The Portuguese tactician brought in a new goalkeeper in Pau Lopez and changed the defence completely at the Olimpico. Gianluca Mancini and Chris Smalling came on loan deals from Atalanta and Manchester United respectively, whilst Spinazzola, Davide Zappacosta and Mert Cetin were added to the roster too. Henrikh Mkhitaryan was another prestige loan from Arsenal, aiming to rediscover his spark. At a club that has become nicknamed 'the supermarket,' the headline-grabbing deals are the ones that don't happen. Last summer, that was Edin Dzeko, resisting the lure of Inter to extend his contract in Rome.
Roma are forever in a state of flux and they can get dizzy on this merry-go-round. President James Pallotta spent months in advanced negotiations with The Friedkin Group for this takeover, a deal that was all set, then abandoned, then rebooted and eventually concluded in August.
There was at least one stroke of luck before the season even began, as Milan's Financial Fair Play plea bargain meant Roma were bumped up to the group stage without going through the Europa League preliminary rounds.
Roma lost only twice in the first half of the campaign and by Christmas, the Lupi sat fourth in Serie A and looked certain to be fighting for a place in the Champions League. But after the winter break, it started to go wrong for Fonseca.
He lost important players to injuries, with highly influential Nicolò Zaniolo the biggest absentee of them all, and the team struggled to convince in his preferred 4-2-3-1 formation. Two early defeats in January became five in seven, then a brief upturn in fortunes was stalled by the global COVID-19 outbreak. Roma had fallen to fifth during the three-month break and quickly found themselves scrapping even to keep hold of that from Milan and Napoli. Meanwhile, director of sport Gianluca Petrachi was fired only months after he was poached from Torino, following an ugly row with President Pallotta, just adding to the constant sense of instability.
The Giallorossi returned with three poor results against Milan, Udinese and Napoli in June, before Fonseca decided to change to a back three for the remainder of the fixtures. It proved to be an inspired transformation, one really not familiar to the ex-Shakhtar Donetsk coach.
The new formation and the return of Zaniolo helped Roma end the season with an unbeaten run of eight games in Serie A to secure fifth, where they spent 24 weeks, including 17 straight since the 22nd round of fixtures.
Roma have qualified for the Europa League next year, but struggled to compete with the top four, falling behind due to 10 defeats and seven draws, conceding 51 goals, more than any other club in the top seven. The only 'big' club they managed to defeat was Juventus in the final round, as the reigning champions rested most of their squad.
This being Roma, any positive developments have to be followed by a negative, and in this case it was being comprehensively out-played in the Europa League Round of 16 by Sevilla.
That same day, fans celebrated a change of ownership, as Pallotta and Friedkin finally agreed terms for the takeover and more big changes are expected at the club ahead of next season. Only a few tweaks are required to be back in contention for fourth place, but it must have hurt seeing local rivals Lazio fight for the Scudetto in a season of ups and downs.
The Coach – Paulo Fonseca
Fonseca was a new face to Serie A from Shakhtar Donetsk and had a positive start, having made significant changes to the squad. The Portuguese tactician looked like he was going to be able to bring the Giallorossi back into the Champions League. Halfway, he was partly figured out by the others and partly left with few alternatives due to an injury crisis, so had to go through a bumpy few months. He later turned things around with a tactical tweak and made Roma look like a top team again towards the end of the campaign.
Player of the Year – Edin Dzeko
It's always easy to pick the leading goal-scorer, but Dzeko kept fighting for Roma throughout the whole season. He signed off with 16 goals and 11 assists in a campaign where he took on a new role, as the leader was given the captaincy by the new coach. The Bosnian went from seeking the exit to becoming a pillar of the squad, but was too often left isolated on the pitch.
Highlights – Three is the magic number
Roma ended the season on a high, the change of formation to a three-man defence worked wonders and an unbeaten run of eight games to secure fifth in the League, winning seven of them, gives a belief that the Giallorossi can start next season with a lot of confidence. At least, that had been the plan until they bowed out of the Europa League.
Nightmare – Zaniolo distraught
A long list of injuries halted Fonseca's plans during large chunks of the season. Davide Zappacosta was brought in on loan from Chelsea but was mostly out injured, the same looked to be the case for influential Henrikh Mkhitaryan, who struggled to stay consistently in shape. When Nicolò Zaniolo fell screaming and clutching his knee against Juventus in January, it felt like a sporting tragedy for the boy who – he thought – would miss Euro 2020 and a Roma side that desperately needed him.
Did You Know?
Roma had lost all eight Serie A trips to the Allianz Juventus Stadium since it was inaugurated, until the 3-1 win in Week 38.
Lorenzo Pellegrini provided 11 Serie A assists, the first Roma player to get at least 10 since Francesco Totti in 2013-14.
Edin Dzeko is the fourth player in Roma history to score over 15 goals in three different Serie A seasons, following Rodolfo Volk, Pedro Manfredini and Amedeo Amadei.