Serie A 2019-20 preview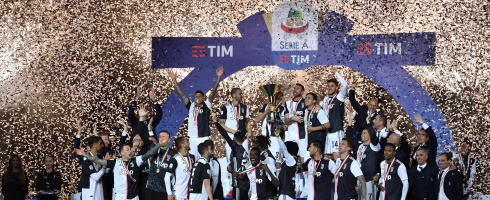 It's all change at the top of Serie A for the 2019-20 season. Juventus, Inter, Milan and Roma have new Coaches on the bench, and the battle to depose the Old Lady begins again in earnest.
Also in contention are Carlo Ancelotti's Napoli - can they benefit from a summer of stability while chaos has whirred around them? Meanwhile, Lazio's season was given a sheen by lifting the Coppa Italia, but a League finish of eighth was a disappointment. Can they crash into the top four?
And what of last season's surprise package Atalanta? Few foresaw Champions League qualification for La Dea but they were well worth third place. A repeat in the new campaign seems unlikely and yet it's foolish to doubt Gian Piero Gasperini's remarkable side.
At the bottom, Genoa stayed up by the skin of their teeth and Fiorentina's plummet in the second half of the season led to recriminations in Florence. Both will be aiming for better this season.
The newly-promoted teams - Brescia, Lecce and Verona - will make beating the drop their priority, and the former, having added Mario Balotelli to the squad, are going to be fascinating to follow.
Balotelli isn't the only headline-grabbing return - Gianluigi Buffon is back too. At 41, he makes last season's Capocannoniere, 36-year-old Fabio Quagliarella, look like a spring chicken. Wojciech Szczesny remains the Juve No. 1, but Gigi is there just in case.
Throw in the continued presence of Cristiano Ronaldo and the Serie A campaign has all the makings of one for the ages. As the kick-off to the season looms on the horizon, the Football Italia team have taken a look at each of the 20 teams making up the class of 2019-20…
ATALANTA

How will the Champions League impact Atalanta's Serie A campaign? Sam Wilson takes a look. Read more.
BOLOGNA

Sinisa Mihajlovic saved Bologna last season, but faces a battle off the pitch now too, Vilizar Yakimov writes. Read more.
BRESCIA

Brescia are back in the big-time, and Marcello Cossali-Francis believes simply staying up would make for a successful season. Read more.
CAGLIARI

Radja Nainggolan is back at Cagliari, and there's hope of a better season in Sardinia, Adrian Carp writes. Read more.
FIORENTINA

Wayne Girard runs the rule over Fiorentina, who have ambitious targets in mind under bold new ownership. Read more.
GENOA

Last season was a tumultuous one on the Genoa bench. Michael Barbaro assesses where the Grifone stand now. Read more.
INTER

The arrivals of Antonio Conte and Romelu Lukaku make Inter the most likely challengers to Juventus, argues Richard Hall. Read more.
JUVENTUS

All eyes are on Maurizio Sarri to see if he can continue Juventus' era of dominance, Emmet Gates writes. Read more.
LAZIO

Lazio's disappointing 2018-19 ended on a high with victory in the Coppa Italia. Mads Hansen considers what 2019-20 will bring. Read more.
LECCE


Vijay Rahaman sees a season of struggle ahead for the promoted Salentini, who will be hindered by a difficult start. Read more.
MILAN


A change of Coach means a new era at Milan, but the Rossoneri are moving in the right direction, Vilizar Yakimov writes. Read more.
NAPOLI


Napoli's Scudetto rivals find themselves in a state of flux, leading Sam Wilson to wonder if this is their chance at success. Read more.
PARMA


Parma have something to build on after returning to Serie A last season, but Michelle Osei Bonsu warns against complacency. Read more.
ROMA

A summer of sweeping changes - including the exit of a club icon - leaves Roma looking to regroup, writes Andrea Tallarita. Read more.
SAMPDORIA

A new Coach, ownership questions and a flurry of transfer activity are par for the course at Sampdoria, Vijay Rahaman writes. Read more.
SASSUOLO

How Sassuolo's attack gels will be pivotal in deciding which end of the table the Neroverdi are at, Ciro Di Brita says. Read more.
SPAL

SPAL have improved year-on-year and Richard Hall sees no reason for that to change this season. Read more.
TORINO

Unexpected Europa League entrants Torino have European qualification in their sites again, says Ciro Di Brita. Read more.
UDINESE

Elio Salerno fears Udinese are being forgotten by their owners and could pay for it this season. Read more.
VERONA


The 1984-85 champions have only one aim on their return to Serie A - survival, says Stefan Girasoli. Read more.