Serie B champions last season, safety is the only thing on Brescia's agenda, writes Marcello Cossali-Francis.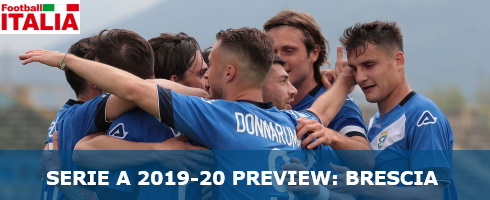 Brescia fact file
Coach: Eugenio Corini
Last season: Serie B champions, 67 points
Player of the Year 2018-19: Alfredo Donnarumma
Look out for: Mario Balotelli
Prediction: Avoiding relegation would be a real achievement.
Back in the big time
Following their relegation to Italy's second division back in the 2004-05 season, Brescia would not have foreseen such a difficult and long route back to the top-flight.
Brescia finished that season in 19th and would then not taste Serie A action again until 2010-11, where they were relegated straight back to Serie B and stayed until now.
Last season, following seven mediocre campaigns, they managed to secure promotion to Serie A as champions, winning the League by a point over Lecce in second. They lost just five games on route to the title, winning 18 and drawing 13 of their 36 matches, led by top scorer Alfredo Donnarumma.
His 25 League goals contributed heavily to the team's success, alongside fellow forward, Ernesto Torregrossa. Indeed, goals were not a problem, but Brescia's defensive record was not particularly strong, conceding 42 goals in their 36 matches, surprising for a team who won the League.
That will most definitely be the area Eugenio Corini needs to address, as he looks to try and arrange a side to try and survive in Serie A, so often a struggle for promoted sides.
Brescia's spending in the summer suggests that Corini is going to put his faith in the side that got them promoted. They have only spent around £13m in the window, a cause for concern perhaps given the drastic gap in quality between Serie A and the divisions below.
What is a positive is that they have not lost anyone during the window. Players such Donnarumma, Torregrossa, Dimitri Bisoli and Leonardo Morosini have all been kept and retaining them will be key with the transfer window still open after the Serie A season begins.
Those players will be vital for Brescia, even as players who succeed in Serie B often find it difficult in the big time. But they will have to be tighter at the back if they are to avoid going back down a League and Corini will surely still have his eyes on adding some reinforcements back there before the window shuts.
Brescia's ability to score goals will stand them in good stead, and their attacking style will no doubt rustle a few feathers. Defensively there will be changes needed to be made as conceding over 50 goals will almost always see them down towards the bottom at the least.
It will be a tough ask for Brescia to avoid being relegated, and the Rondinelle may regret not opening the purse strings a little more to address some of their issues. They have goalscorers, but a leaky back-line will make for a tense season.
The addition of Mario Balotelli is a move that could work out spectacularly. The former Manchester City striker will be a big fish in a smaller pond at Brescia, and close to home for the first time in years, something he celebrated in his Instagram post about the transfer. Still only 29, Balotelli has years left in him and a point to prove. He could make the difference for Brescia this season.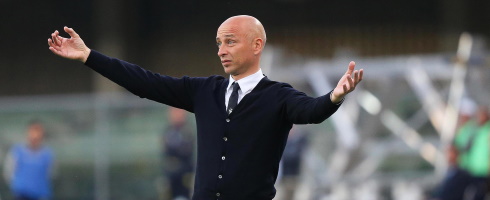 The Coach: Eugenio Corini
The former Bresica, Juventus, Chievo and Palermo man, who has been in coaching now for nine years, earned promotion in his first season in charge and will be looking to continue his success by keeping his side up in their first appearance in Serie A in eight years.
Key summer signing: Jaromir Zmrhal
The 26-year-old Czech international was signed from SK Slavia Prague for just under £4m. The left-sided midfielder will look to add pace and good delivery from out wide, to the prolific striker up top in Donnarumma.
Key summer sale: None
None of the players leaving Brescia this summer are significant departures, so Corini at least has a squad that knows his system. That familiarity will be important when the going gets tough.
Predicted XI [4-3-1-2]: Joronen; Sabelli, Cistana, Gastaldello, Martella; Bisoli, Tonali, Curcio; Spalek; Donnarumma, Balotelli