Radja Nainggolan's return captures the headlines but Cagliari have plenty of reasons to be optimistic, according to Adrian Carp.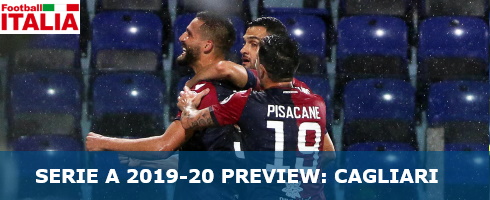 Cagliari fact file
Coach: Rolando Maran
Last season: 15th, 41 points
Player of the Year 2018-19: Nicolò Barella
Look out for: Radja Nainggolan
Prediction: 10th
Time to shine
When Rolando Maran signed for Cagliari in July 2018 there were hopes that his experience could provide some stability and possibly a move higher in the Serie A hierarchy. Although the Sardinians managed to secure safety only in the penultimate round, there are many reasons to expect the Rossoblu will raise the bar this year.
Cagliari's biggest achievement goes beyond their Serie A safety, as with Maran they've managed to accurately explore the wealth of talents the Sardinians had in their squad. Leonardo Pavoletti had his best Serie A season, scoring 16 goals, while 22-year-old Nicolò Barella moved to Inter for a fee certain to be over €40m. Juventus signing Luca Pellegrini is another youngster that shined under the 56-year-old Coach. This year, Pavoletti is bound to improve his goal tally, while Pellegrini will continue his growing process with the Rossoblu.
The return of Radja Nainggolan from Inter will undoubtedly prove to be a catalyst for the Isolani – the Belgian is a fan favourite among Cagliari fans and has already expressed his intentions of proving the Nerrazzuri wrong for virtually kicking him of the club following an unsuccessful stint plagued by injuries. The 31-year-old is considered by many one of the most complete midfielders in Italy, capable of handling various midfield duties, although his peak performances were exhibited in a more advanced role, both at Roma and Inter, under the guidance of Coach Luciano Spaletti.
There are already reports that Maran is experimenting with a 3-5-2 formation to possibly suit Nainggolan, while also providing space in midfield for the solid Artur Ionita and creative Luca Cigarini. It is without a doubt that with such a good squad at disposal and a little more luck with regards to the numerous injuries suffered last year, Cagliari can punctually aim for a top 10 finish.
From a financial point of view, Cagliari are one of the few Serie A clubs to exhibit a positive balance sheet – a constant result for the administration leaded by President Tommaso Giulini ever since he took up the Rossoblu cause in 2014. Currently, Maran seems to have gathered at his disposal the most strong and complete team in the Giulini era. Their only concern seems to be finding an able partner for Pavoletti, with rumours pointing to Giovanni Simeone of Fiorentina, possibly in an exchange involving Brazilian forward Diego Farias. It was with Pavoletti at Genoa when Cholito Simeone introduced himself to the Italian football scene, forming a balanced partnership with the Livornian striker.
This season the Rossoblu fans have all the reasons to expect more from a neatly tailored squad, one that is a mix of talented youth and experienced leaders. The club's administration has worked well until now, while all the other ingredients are there for this Cagliari team to finally shine in Serie A.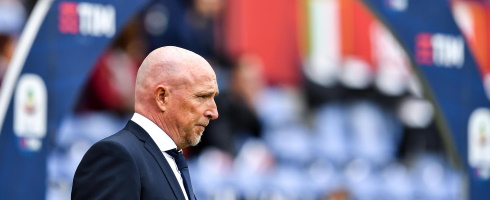 The Coach: Rolando Maran
The 56-year-old Coach will try to build upon the foundations laid in his first season in charge - maintaining Maran as head Coach adds continuity to Cagliari's project, while managing to keep many key men from the previous campaign will certainly prove decisive. Recent developments around the club suggest Maran might change formation this year, opting for a 3-5-2 instead of his preferred 4-3-1-2 tactic, although it remains to be seen how Cagliari line-up once the transfer window closes.
Key summer signing: Radja Nainggolan
Although Nainggolan joins Cagliari after an unsuccessful spell with Inter, filled with controversy and many injuries, it should still be noted that the Sardi have signed a player worth €38m only a year ago, has Champions League experience and will probably have the entire team structured around him.
Key summer sale: Nicolò Barella
Barella is a product of Cagliari youth team, while also featuring in many games for the Nazionale youth teams. The 22-year-old has already scored two goals in seven appearances for the Azzurri, proving to be one of the most promising young talents in Italy, with some comparing him to Steven Gerrard, due to his good technique, vision and physical strength.
Predicted XI [4-3-1-2]: Rafael; Cacciatore, Ceppitelli, Klavan, Mattiello; Nandez, Cigarini, Rog; Nainggolan; Joao Pedro, Pavoletti.