Antonio Conte's well-defined style needs another player or two, Richard Hall acknowledges, but Inter are still well-placed to challenge.
Inter fact file
Coach: Antonio Conte
Last season: Fourth, 69pts
Player of the Year 2018-19: Milan Skriniar
Look out for: Lautaro Martinez
Prediction: Inter have the capability to finish in the top three
New Inter, new dawn
Respect and hard work, these were the only demands from Antonio Conte when he addressed his team in the first training session. This was to be a new look Inter under Conte, moulded around a Juventus template, tasked to improve on last term. The previous season had not been a disaster but it had seen a number of high-profile internal mistakes that detracted from the pitch. Now the Nerazzurri were getting their heads down and getting serious.
Luciano Spalletti could feel sorry for himself in some regards after parting ways with Inter at the end of last season. Fourth place and Champions League football for the second season in a row was an achievement but it wasn't enough. Both seasons had seen Inter wait until the last moments to qualify and the team had not really improved in style or pragmatism over this period. What is more, the club, the Coach and players like Ivan Perisic, Radja Nainggolan and especially Mauro Icardi, had been at each other's throats.
Inter CEO, Beppe Marotta, had certainly had enough and even before Antonio Conte had arrived, his mind was made up. This was going to be a different era, a professional one and no matter how good the player, none would be bigger than the club. A book will be written one day about Icardi's misdemeanours, or perhaps more appropriately it would be a reality show. The final indignities last season saw Marotta make the move to make public that he would not be around this season. This also applied to Nainggolan, whose professionalism and attitude were also called into question.
Conte would reshape the squad. The formation and system is the variation of 3-5-2 that we have seen at Juventus and Chelsea and as the mercato started, people began to see some stellar purchases. Diego Godin, Stefano Sensi, Nicolo Barella and Valentino Lazaro were some of the best but as pre-season came on, there was a problem. Whilst the team were showing promising signs on the pitch both in work rate and quality, they lacked a killer punch. Admittedly, the ever-improving Lautaro Martinez was only just back from the Copa America, but for a time it seemed like Romelu Lukaku's move would break down. The Belgian did arrive, but it seems no one wants Icardi.
Conte has been doing superb work but the inability to offload the Argentine meant that funds were not there to purchase the two forwards for the asking prices of selling clubs. Conte plays with two front men and he is certainly making his displeasure vocal.
Inter have a superb chance of taking on Napoli and Juventus this season if they can find the final pieces in this puzzle. The stance is a bold one with Icardi but arguably a correct one. The short-term pain now, will be a statement for long term success and this season could be one that sees the Nerazzurri up their levels and their Serie A stature.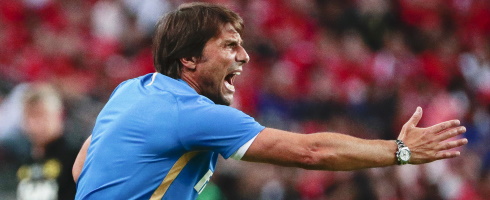 The Coach: Antonio Conte
The whole of Serie A remember Conte's Juventus and he plans to use this template with Inter. Expect a 3-5-2 that sees pressing, dogged determination from all his players, forwards tracking back and a target man up front. His additions in midfield will see added creativity that will be complemented by the wing-backs and wingers. Inter could be a force this campaign.
Key summer signing: Stefano Sensi
When Sensi arrived from Sassuolo on loan with an option to buy, few raised eyebrows. Pre-season under Conte has seen the midfielder start to develop into the best version of himself and his range of passing, creative play, special awareness and goals have been reminiscent of Andrea Pirlo. He could be the engine room in the juggernaut Conte wants to unleash on Serie A.
Key summer sale: Mauro Icardi (TBC)
The truth is that Inter's biggest sale of the summer hasn't happened yet. Yes, it is arguable that Zinho Vanheusden going to Standard Liege for €11.3m disappointed some but that's it. Icardi's departure is key to transfer funds, team morale and even a swap deal but so far, he has gone nowhere and is still getting too many headlines.
Predicted XI [3-5-2]: Handanovic; Godin, Skriniar, De Vrij; Lazaro, Barella, Brozovic Sensi, Politano; Lukaku, Martinez