Maurizio Sarri is on the bench and time will tell if he imprints his style on Juventus. But Emmet Gates notes, time might not be something he gets.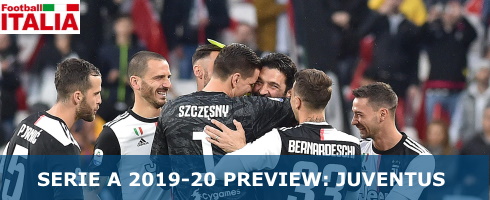 Juventus fact file
Coach: Maurizio Sarri
Last season: First, 90pts
Player of the Year 2018-19: Cristiano Ronaldo
Look out for: Federico Bernardeschi
Prediction: 1st
Style over substance?
"Winning is not important, it's the only thing that matters," former Juventus player and president Giampiero Boniperti once remarked. This slogan is imbedded into the very soul of the club. The DNA of Juve has never been to play attractive football - that never interested them, as the only thing this sport remembers is winners.
Yet times have changed, Juventus are aggressively expanding their brand in a bid to stay afloat with the financial muscle of the Premier League and the Spanish duo. First it was the logo, then the removal of the black and white stripes, and now, with the arrival of Maurizio Sarri, there's the ambition to play attractive football.
The aim is to entice younger generation of fans to fall in love with The Old Lady through their style of play, much in the same vein that kids growing up in the '00s fell in love with Barcelona due to the skills of Ronaldinho, Lionel Messi, Xavi, Andreas Iniesta, Dani Alves etc. Winning alone is simply no longer enough to compete for hearts and minds.
Sarri is a break from the norm for this club, and historically they don't have much luck with managers who prefer style over substance. Gigi Maifredi was the last in 1990-91, and even with the likes of Roberto Baggio and Toto Schillaci, fresh from their heroics for Italy at the previous summer's World Cup, it didn't end well.
They finished seventh and didn't qualify for European football for the first time in nearly 30 years. Maifredi, who in a previous life was a champagne salesman, was shown the door at the end of the season to make way for the ultimate pragmatist's pragmatist – one Giovanni Trapattoni.
Sarri and his much-praised SarriBall method didn't win over the Chelsea fans, who could be heard shouting 'boring' at times throughout games. Yet Sarri's system doesn't generally kick into gear until his second season. Regular viewers of Napoli would remark that his complicated methodology takes time to become entrenched into the memories of players.
Juve are hoping Sarri's style will hit the ground running. Many of the squad, including star player Cristiano Ronaldo, are on the wrong side of 30 and don't have time to waste. This Juventus side is built to win here and now, not in another two or three years. However, the noises coming out of the club during pre-season have been positive, with former legend Pavel Nedved noting that the team now move the ball around quicker.
Juve's midfield, the source of arguably their weakest area of the pitch last season, still hasn't been entirely fixed. Aaron Ramsey and Adrien Rabiot are fine acquisitions, but both lack the power and speed that has been missing in the midfield since the departures of Paul Pogba and Arturo Vidal.
Will Juventus give Sarri enough time to fine-tune the facets of his system? It could go either way. It could be disastrous and Sarri will be sacked before the end of the season, or it could be a roaring success and it could build the foundations of a new, attacking Juventus. But one thing is for sure, there won't be a middle ground.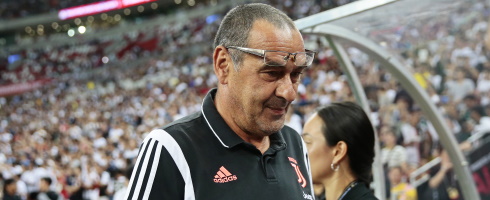 The Coach: Maurizio Sarri
Juventus have broken from tradition to make Sarri their new Coach. Will they live to regret that decision? Where former boss Max Allegri tailored his formation accordingly, Sarri is famously a systems' manager. He won't stray too far from a 4-3-3 (at a push a 4-3-1-2). It could be wondrous, or calamitous.
Key summer signing: Matthijs de Ligt
Juventus really surprised the world by the capture of de Ligt, a defender sought after by just about every big club in the world. Yet the young Dutchman, who has been accused of choosing Juve based on financial terms rather than sporting ambition, is eager to learn and improve from the likes of Giorgio Chiellini and Leonardo Bonucci.
Key summer sale: Moise Kean
Kean's transfer to Everton raised a lot of eyebrows in the game. Kean is viewed as a future star of the Azzurri, and indeed many thought a Juve mainstay. However, Juve's failure to move on many of their ageing strikers meant something had to give, and they decided to sell the youngster to England. Despite having no buy-back clause, they do have right of first refusal.
Predicted XI [4-4-3]: Szczesny; De Sciglio, de Ligt, Chiellini, Alex Sandro; Pjanic, Rabiot, Ramsey (Matuidi); Bernardeschi, Ronaldo, Dybala (Douglas Costa)