Lecce earned promotion after finishing second in Serie B. Vijay Rahaman expects their fight to beat the drop to be a tense one.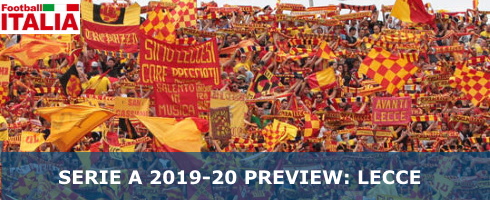 Lecce fact file
Coach: Fabio Liverani
Last season: Second in Serie B, 66 points.
Player of the Year 2018-19: Andrea La Mantia
Look out for: Panagiotis Tachtsidis
Prediction: Battling for Serie A safety
To the wire
Lecce started off last season's Serie B campaign with a couple of entertaining goal-fest draws with Benevento and Salernitana, before an away defeat to Ascoli left Coach Fabio Liverani searching for solutions.
The turning point of the season seemed to be their dramatic win over Venezia at their Stadio Via del Mare home. With the score level at 1-1, Simone Palombi scored an injury time winner that sent the home fans into raptures, gave the Apulia-based team their first three points of the season and provided a catalyst for the rest of the year.
Lecce would lose just seven more games in the League, achieving significant victories over Pescara and Serie B winners Brescia in the last couple months of the season and confirmed their return to the top flight of Italian football with a 2-1 win over Spezia at home, with goals from Jacopo Petriccione and Andrea La Mantia. The club, who were formed in 1908, ended the campaign with the most wins [19], just one point behind Brescia, proving their return to Serie A was well deserved.
After the euphoria of promotion, attention turned to preparations for the daunting task of the Serie A and putting things in place for the club to stabilise and give themselves the best chance of Serie A survival.
The summer mercato has seen the Giallorossi add both youch and experience to their squad and, importantly, they've done so in all areas of the pitch. The biggest outlay has been on right-back Romario Benzar from Romanian giants Steaua Bucharest, for €2m. Left-back Brayayn Vera has also joined, as has veteran Luca Rossettini. Greek midfielder Panagiotis Tachtsidis, who was acquired in the January transfer window, has signed permanently from Nottingham Forest and he will be hoping to continue his run so far which has garnered 17 games and three assists.
Lecce scored the second most goals in Serie B, but the top division in Calcio is another kettle of fish altogether and they have two strikers at opposite ends of their careers up front - 29-year old journeyman Gianluca Lapadula has joined teammate Rossettini on loan from Genoa and 21-year old Simone Lo Faso came in from Palermo, after the Sicilian club was sent down to Serie D for financial irregularities.
Liverani's side are blighted with a difficult start to the season. They open at San Siro against Inter and in their first 10 games of the season must play Torino, Napoli, Roma, Atalanta, Milan, Juventus and Sampdoria. That's 30 points up for grabs, and whatever they come out with will be a massive bonus. And, ending with Brescia as one of the final four fixtures and facing Parma on the final day, at home, it's likely they'll need something against the Croaciati to stay up.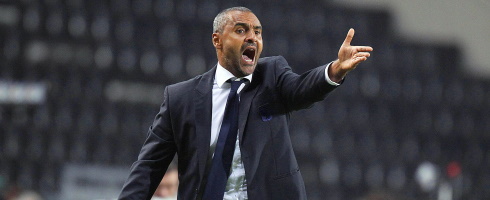 The coach: Fabio Liverani
Liverani's first senior role was at Genoa, but he only lasted seven matches. He went on to manage Leyton Orient and Ternana, and in September 2017, took over at Lecce when they were in Serie C and led them to consecutive promotions. The 43-year old favours a 4-3-1-2 formation with the trequartista linking the play and the entire team playing on the front foot.
Key summer signing: Gianluca Lapadula
The Torino-born striker has been signed on loan from Genoa with an option to make the move permanent. Lapadula is coming off two seasons where he was in and out of the team, and managed eight goals in 38 games. He is a versatile striker who can operate along the front-line and his experience of having spent the last three campaigns in Serie A should prove vital to any hopes il Lupi have of surviving.
Key summer sale: Lecce's business has been more about comings than goings, as the club set out to build a squad with the depth to stay afloat this season.
Predicted XI [4-3-1-2]: Vigorito; Benzar, Lucioni, Meccariello, Calderoni; Tachtsidis, Majer, Petriccione; Falco; Mancosu, La Mantia.