Parma can't afford to think they've made it now they're starting their second season in Serie A, Michelle Osei Bonsu warns.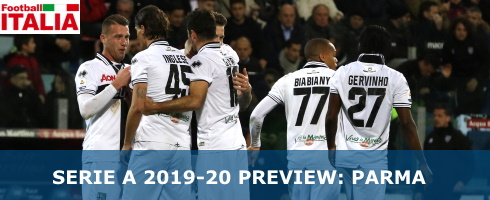 Parma fact file
Coach: Roberto D'Aversa
Last season: 14th, 41 points
Player of the Year 2018-19: It has to be Gervinho.
Look out for: Roberto Inglese
Prediction: Mid-table, anywhere between eighth and 12th.
The real work begins
Last season saw Parma back in the top flight after four seasons of having to work their way back up from Serie D following a bankruptcy and restructuring in 2015. Overall, Parma's first crack at the top flight was not as turbulent as many would have expected. Yes, it took them until matchday four to pick up their first victory, but it was worth it as it turned out to be a historic result – beating Inter at the Stadio Giuseppe Meazza for the first time in decades.
Along the way, there were other impressive outcomes, including holding Juventus to a very impressive 3-3 draw thanks to the heroics of Gervinho, who netted a late brace at the Allianz Stadium to silence the home crowd. And although their joy was short-lived, as Parma then went on a three-game losing streak, including being defeated by Inter, they always seemed to bounce back in the nick of time.
That meant that defeats to the likes of Frosinone counted little as they picked up valuable draws along the way to ensure they stayed ahead of bottom-feeder sides such as Chievo. On the penultimate matchday, they edged out struggling Fiorentina to make sure they pulled clear of Cagliari and the Viola to avoid being sucked into the rather unwanted relegation tussle at the bottom of the table.
As a result of their diligent efforts, the Crociati not just survived, but they ended up in a solid 14th place, three points clear of relegation. Now the work will really begin.
Parma will be keen on avoiding the dreaded sophomore slump, or second-season syndrome, a common affliction that hits newly-promoted sides in which a team avoids relegation upon their arrival in the top flight, but gets too complacent and is sent back down during their second year.
Overall, Roberto D'Aversa's men had a solid pre-season campaign, picking up two wins and a draw from their four matches, and that includes an impressive 2-1 win over fellow Serie A side Sampdoria. They will open the campaign against reigning champions Juventus – not exactly the way any team would want it, but they will be facing the Bianconeri at home so with the crowd behind them, Parma will be fancying their chances at a shock upset.
After all, they did manage a draw with La Vecchia Signora in Turin, and Juventus have shown that they are not infallible on matchday one – they did infamously lose to Udinese not too long ago – and Parma will want to take advantage of a side who are still coming to grips with a new resident on the tactician's bench.
Their Coppa Italia journey will begin early too, as having finished in 14th they will get underway in the third round. Having brought in some new personnel to further bolster the side, Parma will naturally look to remain fairly competitive on two fronts to the best of their abilities in the upcoming 2019-20 term.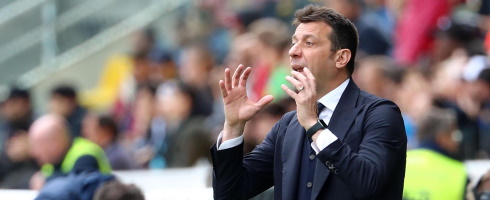 The Coach: Roberto D'Aversa
Born in Stuttgart, ex-midfielder D'Aversa has been in charge of Parma since 2016, so has been with them through some difficult times in the lower tiers. Prior to this, he was on the tactician's bench of Virtus Lanciano between 2014 and 2016, but was abruptly sacked in January following a 3-0 defeat to Trapani. He tends to prefer a 4-3-3 set-up, nothing too original or exciting, but it seems to work just fine.
Key summer signing: Robert Inglese
Roberto Inglese has arrived at Parma in a permanent deal for €20m. Although Napoli paid €12m for him two years ago in 2017, he was shipped out promptly on loan – first to Chievo and then Parma – and last season he proved to be another option for goals in addition to the veteran attacker Gervinho.
Key summer sale: None
Parma really haven't lost anyone notable this summer, unlike some other teams. However, they'll be hoping to hang on to Gervinho despite the aggressive advances of Galatasary, who have tried to sway him with promises of virtually doubling his salary.
Predicted starting XI [4-3-3]: Sepe; Iacoponi, Bruno Alves, Gagliolo, Laurini; Barillà, Kucka, Hernani; Karamoh, Inglese, Gervinho