A new Coach and sporting director, and the departure of Daniele De Rossi, belies the promising situation at Roma, Andrea Tallarita writes.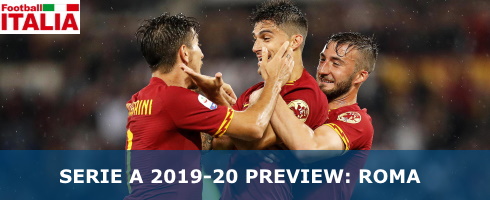 Roma fact file
Coach: Paulo Fonseca
Last season: 6th, 66 points
Player of the Year 2018-19: Stephan El Shaarawy
Look out for: Nicolò Zaniolo
Prediction: Fourth
Roma rebound
Roma's 2018-19 season closed on the bleakest possible note, with Coach Eusebio Di Francesco and sporting director Monchi out of the door after failing to qualify for the Champions League, and the fans utterly alienated by the poorly-handled retirement of club legend Daniele De Rossi.
Only months later, Roma walk into this coming season on surprisingly healthy legs. The failure to qualify for the Champions League belied the remarkable financial growth that the club enjoyed over the previous few years, and this gave new sporting director Gianluca Petrachi room to assemble a rather impressive cohort.
The Giallorossi have now signed midfielders Jordan Veretout and Amadou Diawara, from Fiorentina and Napoli respectively, defenders Gianluca Mancini and Leonardo Spinazzola from Atalanta and Juventus, as well as goalkeeper Pau Lopez from Betis. Except for Lopez, these are all experienced Serie A players ranging in age from 22 to 26.
These additions join a squad that is already bursting with players who have done battle in Serie A and who are even younger in age [20-24]: Nicolò Zaniolo, Lorenzo Pellegrini, Justin Kluivert, Cengiz Under, Bryan Cristante, and Patrik Schick.
None of these players are so untested that we may call them risky, yet none of them are old enough to have hit their ceiling. New boss Paulo Fonseca has been handed a team that is dependable, but that also has impressive potential to grow.
For Roma, this may be the only approach to hopefully fill the shoes of Kostas Manolas and Stephan El Sharaawy, ceded to Napoli and Shanghai Shenhua respectively. Those two provided a hefty contribution in central defence and in the attack, and it will be necessary for at least one of their successors to fulfil their potential if the void is to be filled again.
Given their personnel can hit the ground running, require minimal adaptation, and have abundant physical energy, the Lupi are particularly well-suited for a domestic campaign. This is excellent news, because not playing in the Champions League, while financially crippling, tends to improve domestic competitiveness by a margin: there are much greater reserves of mental and physical energy to be tapped, and this boost should give Roma an edge over fourth-place competitors Lazio, Milan, and especially Atalanta - who will now themselves have to deal with that high-end tournament.
In fact, Roma's domestic specialisation and their absence on the international red carpet [the Europa League is nowhere near as demanding] means that they may be able to disturb some of the more prestigious teams and even challenge for a top three spot.
There are questions still to be answered. We do not know if Fonseca's tactics will carry over well in Serie A, and it remains to be seen whether Roma's motley attack will be able to productively and consistently grab goals. Edin Dzeko and Schick did not work too well in Serie A last season, so the club will have to do a lot better this time.
Nonetheless, the rebuilt foundation looks surprisingly solid, the reasoning behind the transfers appears to be sound, and many of the players look poised for either a break-out or a consecration. If Roma turn out to be the surprise of the season, it will be no surprise to us.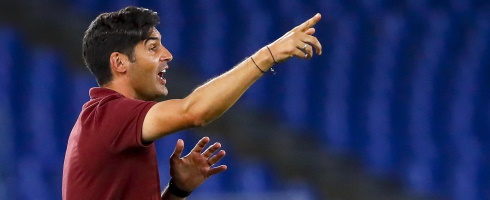 The Coach: Paulo Fonseca
Paulo Fonseca is one of the trickier topics surrounding Roma's season. He has excellent players available for his preferred 4-2-3-1 as well as his high-pressing style, and he did very well in his past few seasons with Shakhtar Donetsk. But he is still a relatively young Coach with no experience working in Serie A, and Roma is not exactly a temperate club to test the waters. The odds on his success are 50/50.
Key summer signing: Gianluca Mancini
Roma really struggled defensively last year, and with Kostas Manolas gone, rebuilding the back-line was a matter of the highest urgency. Gianluca Mancini is perhaps under more pressure than any other new signing to prove his mettle both individually and as a team player. Success will reward him with a starter's shirt plus access to the Azzurri for years, while failure could handicap Roma's entire season.
Key summer sale: Stephan El Shaarawy
We named El Shaarawy our Roma player of the year last season, so it was particularly disappointing to see him leave for China. His ruthless efficiency in both passing and finishing will be sorely missed, but hopefully one of Roma's young up-and-comers can take up his mantle.
Predicted XI [4-2-3-1]: Pau Lopez; Florenzi, Mancini, Fazio, Spinazzola; Diawara, Pellegrini; Under, Zaniolo, Kluivert; Dzeko