SPAL's achievements deserve greater recognition, argues Richard Hall, with another year of solid progression in the offing.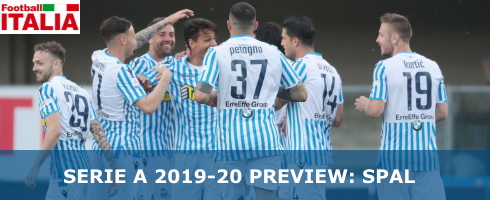 SPAL fact file
Coach: Leonardo Semplici
Last season: 13th, 42pts
Player of the Year 2018-19: Andrea Petagna
Look out for: Federico Francesco
Prediction: 10th - they could improve on last term
Building on a solid foundation
Unfashionable is an apt but disappointing way to describe SPAL. The team's story should be more glorified, as their climb through the divisions to the top flight means they are now at a point in time equal to that of their glory years in the 1950s and 1960s. Playing attractive football, the team from Ferrara are now not simply trying to survive, they are making inroads to becoming solid mid-table team.
To define SPAL is easy. When they were founded in March 1907 they were originally called 'Circolo Ars et Labor' [Latin for Art and Work Club]. This is a description that, to this day, embodies their philosophy on the pitch. SPAL have risen from obscurity in Serie C to eventually play in the topflight, this was impressive because as recently as 2012, they were forced to reform after financial issues.
Those dark days seem a along time ago now, especially as last season saw them achieve a remarkable 13th-place finish. The little Stadio Paolo Mazza, which holds just 16,134, was a tough place to visit last term but they also gained some impressive points on the road. The club who will not want to face them this season will be Roma, as they lost home and away to the Biancazzurri, they were not their only victims either. Lazio and Juventus of all teams also fell to them - there is no small man syndrome about SPAL.
The summer hasn't seen a huge amount of movement which for this team is a bonus. There will be no settling in process for five or six players and in turn they will hope to hot the ground running. The major loss was wing-back Manuel Lazzari who left for Lazio for €10m. The only bonus with this situation was that, even though he was one of their best players, he was injured for a time last season and they learned to cope without him. The wingers/wing-backs are critical for Semplici's system and that is why keeping hold of Mohammed Fares will be crucial. There have been rumours he is on the radar of Inter and they will have to try and fend them off.
Perhaps an acquisition that will be interesting is the arrival of Federico Francesco. After a poor season at Sassuolo he has been loaned to SPAL, they will be hoping he can recapture his form for Bologna in the previous season. If he can then they will have a steal.
The season starts off with games against Atalanta (at home) Bologna, Lazio, Sassuolo and Lecce. They will not be afraid of this early run of fixtures and it gives Andrea Petagna the chance to find his shooting boots that he wore so well last season. The season will not be easy but if key personal can keep fit and they apply the same methods as last term, SPAL will once again improve.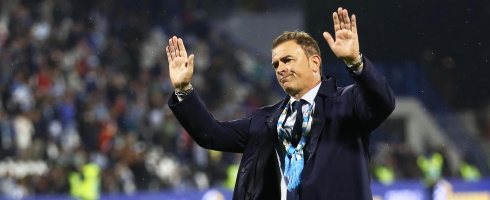 The Coach: Leonardo Semplici
Can you make an argument for Leonardo Semplici being one of the most underrated coaches in Italy? Perhaps you can, for he has guided SPAL from Serie C to the topflight and is now maintaining their Serie A status whilst playing good football. The 52-year-old Florentine had only coached Pisa (of any note) before and this is his biggest challenge. He is compared to Gian Piero Gasperini of Atalanta for his use of wing-backs and hard-working style.
Key summer signing: Federico Francesco
Son of Sampdoria Coach Eusebio Di Francesco, the winger was making a name for himself in his own right at Bologna two seasons ago. This earned a 7m Euro move to Sassuolo last summer but it didn't work out and he played 21 times, scoring twice and getting three assists. The talented 25-year-old now has a chance to excel under Semplici and could be one to watch this season.
Key summer sale: Manuel Lazzari
After 198 appearances for SPAL, Manuel Lazzari earned a move to Lazio which saw him cost €10m with Alessandro Murgia also included. It will be a shame for SPAL as he was integral to their system and it is no surprise that there run of bad form last term, coincided with an injury to him.
Predicted XI [3-5-2]: Viviano; Cionek, Vicari, Bonifai; Di Francesco, Valoti, Murgia, Kurtic, Fares; Petagna, Antenucci