Italy leads the way on VAR
Russia 2018 will include VAR technology for the first time and Tom Scholes explains why Italians know it better than anyone.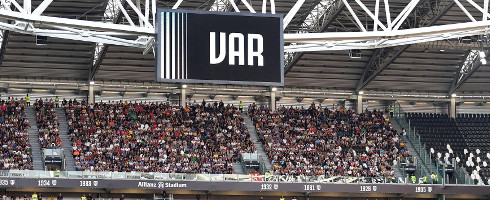 There is set to be a new addition to the biggest sporting event on the planet this summer, and that is of course the video assistant referee, or as we have grown accustomed to calling it, VAR.
While Italy might not be at Russia 2018, they will have a big influence on the competition as the world's leading experts on VAR technology. It was introduced in Serie A in 2017-18 and referees for the World Cup have been at an intensive two-week training camp at the Coverciano ground near Florence, which is also the base for the Azzurri.
Italian officials trained 36 referees and 63 assistants on the new technology, how to use it and what pitfalls to avoid. "There will be four VAR officials. The VAR principal will communicate with the main referee and can suggest that he comes to verify images on the sidelines," explained former Italian referee Roberto Rosetti, who is the lecturer in this intensive course. "The VAR assistant number one will be in charge of following the match live while the review is taking place. VAR assistant number two will be specially in charge of offside." The third is supporting the VAR principal and ensuring protocol is respected.
VAR was rushed into use in the Italian top flight perhaps before it was ready, but they were content to be guinea pigs at the forefront of the revolution.

This is something that has divided opinion across all of football this past season with leagues like the Bundesliga, Serie A, the English FA Cup and MLS using it to various degrees of success. Of course, we all remember what it was like at the Confederations Cup last year, but will FIFA have learnt from their mistakes? Well, let's take a look at how VAR worked in Serie A and try to figure out what exactly it is we will be getting in Russia this summer.
For the rest of our days, Serie A will always be accused of poor refereeing simply because of its past and there is nothing that referees now or in the future can do about it. You'd think that with video replays and extra help, the criticising of officials would stop or at least drop in frequency, but it has if anything exacerbated it.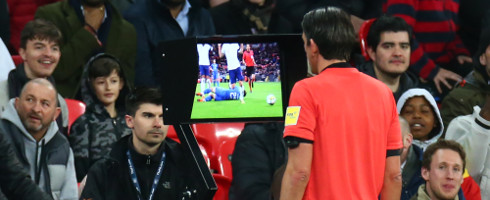 It's safe to say that not everyone is a fan of VAR, and when you look at certain incidents in Serie A this season, you can understand why. Some of the concerns of VAR are lack of communication between the officials and fans, players and Coaches, with no one else being able to see the replay in the stadium except for the referee himself.
FIFA have certainly learned from that and at the World Cup there will be replays on the giant screens enabling everyone – fans, players and Coaches alike – to see and judge for themselves. As we've seen in Serie A, that means if there is an incident of debatable interpretation, it will be argued over with even more passion than before.
The rule of 'clear and obvious error' has been interpreted so many different times by officials that no one is entirely sure what's clear and obvious anymore and ultimately this is what VAR comes down to. Can you accurately decide what is offside and what isn't? Absolutely, because it's objectively quantifiable. But when it comes to an incident such as a handball, that's so much harder to evaluate because the rule itself can be interpreted in so many different ways. Did the player intentionally handle the ball, how fast was the ball hit at the player, could the player move out of the way, was the arm in an unnatural position, all these questions and yet we expect perfection? We don't expect perfection, we just expect a clear decision to be made and that is all we expect at the World Cup.

If it is clear what is being reviewed, people will give the official time to make a decision. If Serie A has proven anything, it's that when the right decision is made and the players know it's a right decision, everyone moves on with the match and it goes on without a hitch. There have been some cases in Serie A and in other competitions where VAR has dominated the headlines, but there have been plenty of games where it's been used and no one has noticed, which is exactly what we want.
"We have to remember that the the very clear objective and the success of VAR will also depend on how it is understood," said FIFA refereeing commissioner Pierluigi Collina. "It's about avoiding clear and obvious major errors. It's not a question of refereeing the match with technology. The goal has never been to check every minor incident."
When you wait four years for a World Cup and there's an entire country holding its breath, nothing feels like a minor incident.