Roberto Mancini was officially presented as the new Italy CT this afternoon, in a Press conference at Coverciano.
Sitting alongside FIGC commissioner Roberto Fabbricini and sub-commissioner Michele Uva, the Coach outlined his plans for the Azzurri going forward.
You can read all of their comments on the Italy section of our site [12], but we've picked out the five key talking points.
Balo's back
Mancini all-but confirmed that he'll recall Mario Balotelli [13] to the Italy squad for the friendlies with Saudi Arabia, France and the Netherlands.
The second of those will be played in Nice, where Super Mario has been playing for the past two seasons.
Given that Mancio was something of a mentor to Balotelli it's no surprise to see him recalled, but after 43 goals in 65 games for Les Aiglons he deserves to win his first cap since the 2014 World Cup.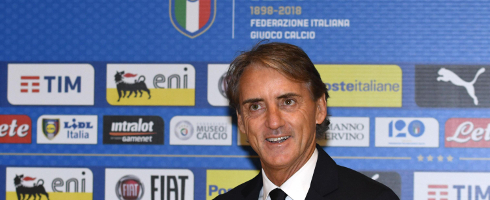 Pirlo in, Buffon out?
Mancio confirmed that he'll speak to Azzurri legend Andrea Pirlo about taking a role within the new setup - would that make this the most fashion conscious Italy bench of all time?
The new CT was more equivocal about Gianluigi Buffon though, who is expected to announce his retirement on Thursday.
Italy face the Netherlands at Juventus Stadium next month, which would serve as a perfect farewell for the captain.
However, it's been reported that Gigi could turn down the call.
Mancini, with some justification, stated that he hadn't yet had time to speak to the goalkeeper, but his words did indicate that there are some doubts about the veteran's willingness.
Di Biagio returns to the Under-21s
Luigi Di Biagio was caretaker CT for the friendlies with Argentina and England, and made no secret of his desire to take the job full-time.
There was speculation that he could leave the Italy setup if he wasn't given the job, but Fabbricini confirmed that he'll return to the Under-21s [14].
Mancio's contract will be incentive-based
Perhaps stung by having to pay Giampiero Ventura's full contract, the FIGC has been more cautious with Mancini.
Michele Uva revaled that part of the salary for he and his staff will relate to achievements on the pitch, while his contract only runs until 2020.
However, there will be an automatic extension [15] if Italy make it to the 2020 European Championships.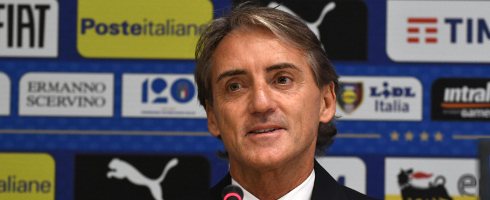 Mancini really wanted the job
While Carlo Ancelotti and Antonio Conte seemed unsure about the national team job, Mancini made it clear he wanted to be CT.
"I'm emotional, because the bench of the national team is not something trivial," he said at Coverciano [16].
"I'm happy about this for my parents too, I think they're delighted. I think becoming CT is the highest aspiration any Coach can have."
Fabbricini confirmed that Mancini had given up significant sums of money in leaving Zenit St Petersburg and noted "we wanted a strong push toward a bench which is historic in world sport".
It appears Mancio's enthusiasm for the job swung things in his favour.
Enable Scroll-To-Play Video
Do Not Exclude From Feeds
Watch Serie A live in the UK on Premier Sports for just £9.99 per month including live LaLiga, Eredivisie, Scottish Cup Football and more. Visit: https://www.premiersports.com/subscribenow [17]