On this day in 2006, Italy beat Germany 2-0 in the World Cup semi-final, in one of the best matches in modern times.
The Azzurri had beaten Australia and Ukraine in the knockout stages, but faced a daunting task in Dortmund against the hosts.
Marcello Lippi's men had the first chance of the game, but Jens Lehmann smothered the ball at Simone Perrotta's feet after a clever pass from Francesco Totti.
Bernd Schneider should have put Die Mannschaft ahead, but he fired over Gianluigi Buffon's crossbar.
The Italy goalkeeper was called into action twice in the second half, saving from Miroslav Klose and Lukas Podolski.
It was an end-to-end game however, and the Azzurri began to assert themselves more and more as the game went on.
As the minutes ticked away, Lippi made ever more adventurous changes, sending on Alberto Gilardino, Vincenzo Iaquinta and, after the match went to extra-time, Alessandro Del Piero.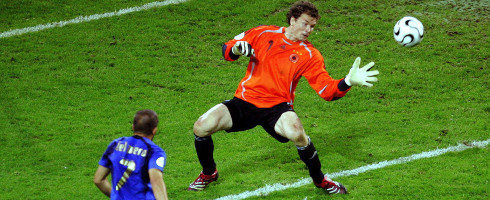 The changes had the desired effect, and Italy started to take a grip of the game in extra-time, though they couldn't break the deadlock.
Finally though, on 119 minutes, Del Piero's corner fell to Andrea Pirlo on the edge of the box.
The Milan midfielder sent a reverse pass in to Fabio Grosso, who curled a first time effort into the far corner.
The left-back ran off screaming, his celebration reminiscent of Marco Tardelli's famous outburst after scoring in the 1982 World Cup final.
Germany pushed desperately for the goal which would take them to penalties, and Fabio Cannavaro cleared a hopeful cross into the box.
The centre-back wasn't done there though, chasing down his own header and robbing Podolski.
Enable Scroll-To-Play Video
Do Not Exclude From Feeds