Roma fans blame the business philosophy for poor results, but Andrea Tallarita claims they're literally improving the team by selling the best players.
For Roma, the story of the weekend wasn't so much that they drew against a side that hasn't won a single game this season, but that they did so in the silence of a half-empty Stadio Olimpico. The fans are deeply disillusioned, and the poor results (five points in four games) are not enough to account for the sullen faces.
What truly upsets the Romanisti is the club's new business philosophy, which appears to put cash before cups. Following last month's defeat to Milan, the tifosi hung a banner claiming the club's only objectives were "profits and sales" [13] and a short while later, sporting director Monchi felt compelled to defend his selling strategy [14].
It's easy to understand why Romanisti would be upset. Since Monchi took the reins, both summers the club sold its most valuable player (first Mohamed Salah, then Alisson). Recently the Spaniard also let go of fan darlings Radja Nainggolan and Kevin Strootman.
The anger over these sales is exacerbated by a sense that the team, despite a busy mercato, has not really been improved. It's worth finding out if this is true.
At the beginning of the 2017-18 season, the sum worth of Roma's squad was €327.6m (as per Transfermarkt data). This season, it is of €369.2M, showing an appreciation of €41.6m. If we interpret the market-worth of the players as a rough approximation of their quality, the team has clearly been improved.
The protests of the fans appear a lot more justified, however, when these improvements are compared to those of the Giallorossi's competitors. Monchi's incrementation of the squad worth by €41.6m appears paltry by comparison with Juve's appreciation by €228m, Inter's by €203m, Napoli's by €140.7m, Milan's by €128m, and even Lazio's by €118.7m.
Though upgraded, Roma have not kept pace with their rivals, and their squad worth is currently a distant fifth in the league: their total of €369.2m sits behind Juve's €768.5m, Inter's €550.6m, Napoli's €489m, and Milan's €475.5 (Lazio are behind Roma, but not by much: their worth is €339.5).
And yet, the Lupi are the weaker team by traditional measurements mostly because they are not pursuing a traditional strategy. The approach adopted by most football clubs dictates that if a team's strongest defender is worth €20m, then the way to strengthen is to acquire a defender worth more than that amount.
Thus, Juventus signing Ronaldo, Milan buying Gonzalo Higuain, Inter retaining Mauro Icardi, Napoli retaining Kalidou Koulibaly, and Lazio retaining Sergej Milinkovic-Savic, are all examples of the same logic: a team is strengthened by buying players better than their best, whilst it is weakened by selling the best already there.
Monchi jettisoned this principle in favour of something completely new, which impatient Roma fans are wrong to dismiss as a simple 'money first' approach. The Spaniard's new paradigm dictates that you must improve the quality of all team-members collectively, and never buy a player above a given value (say, €30m) until the average value of the players already at the club has reached that mark.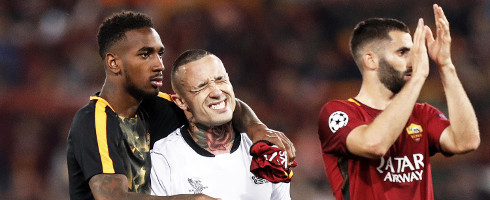 Breaking down the numbers above illuminates this strategy. Roma's three most valuable players are Kostas Manolas, Steven Nzonzi and Alessandro Florenzi, at €40-30-30m respectively. Compare this ratio to those at Juventus (€110-100-65m), Inter (€95-45-45m), Napoli (€60-60-35m), Milan (€55-40-40m), and Lazio (€90-50-35m) and one important difference leaps out.
All the other big clubs evidence a very steep drop in value from their first to their third most valuable player, in some cases with chasms of €45-55m, whilst Roma have by far the gentlest curve at a mere €10m (only Milan are close, but they are still at €15m).
Furthermore, the mean average worth of a Roma player is €14.2m. This means that Manolas, the club's most valuable player at €40m, is worth roughly €26m more than his average teammate.
Compare this with Juventus, where Paulo Dybala exceeds the worth of his average teammate by a whopping €78m. At Inter that figure is €72m, at Napoli it is €40m, at Milan it is €38.5m, and at Lazio it is a fairly ridiculous €80m.
Some of this is the result of market inflation, but mostly it's a systemic issue – similar proportional ratios are found at Bologna, Chievo and Frosinone. Monchi is clearly and deliberately doing something different, by spreading the quality of his players as widely as possible over his collective squad.
Since all these players are youngsters with immediate prospects, the result is that this collective quality rises naturally, spontaneously, with no need for massive injections of capital. As it does, the club's market leverage rises correspondingly and the 'ceiling' beyond which Monchi won't buy also rises.
Exceptional individuals who rise too quickly above the team's average value are sold (Salah and Alisson), as are players who lag behind it (Gerson, Maxime Gonalons), or who can rise no further (Nainggolan and Strootman). Since these sales are happening because and not despite Monchi's system of resilient growth, it is quite accurate to say that Roma are literally improving their team by selling their best players.
Whether fans choose to see this or not, the collective worth of the Roma squad is undeniably being raised. Evidence is provided by the characteristic Roma phenomenon in which a player's value goes up even as their rank in the hierarchies of value goes down.
For example, Stephan El Shaarawy and Diego Perotti both went from being worth €17m to €20m, but dropped from being joint-sixth to joint-eighth among the most valuable players. Edin Dzeko appreciated from €22m to €25m, yet dropped from fourth to sixth.
At other clubs, players who appreciate in value find themselves holding their place or climbing in the rankings, because the increase in the mean average value is being dragged up by one or two very expensive players (either signed or retained). At Roma, unless the appreciation is very substantial (Manolas and Florenzi both jumped by €10m and leapfrogged to first and second place), players actually drop, because the average worth of all their fellow players is rising simultaneously.
It is said that predictions are only remembered when they fly against consensus, so I'll stake my credibility on this: unless James Pallotta or Monchi leave the club, Roma's system of resilient and sustainable growth will establish them as the second football power in Italy within three years.
As for the trouble they are experiencing now, it's like your feet hurting when you walk, it only happens when you're going places.
Do Not Exclude From Feeds
Watch Serie A live in the UK on Premier Sports for just £9.99 per month including live LaLiga, Eredivisie, Scottish Cup Football and more. Visit: https://subscribe.premiersports.tv/ [15]