Juventus face Ajax in the Champions League quarter-final on Wednesday, so Vilizar Yakimov takes a look at the most dangerous Dutch players.
It's been a while since Juventus and Ajax faced each other in the latter stages of an European competition. In fact there have been just four games between the Old Lady and the Dutch club this century, as the two sides met twice in the Europa League in 2010 and had two more meetings in the Champions League group stage in 2004.
However, neither of those games came even close in terms of quality and prestige compared to their clashes in the mid-90s. Back then both the Bianconeri and Ajax were amongst Europe's finest teams and undoubtedly cemented their place as two of the greatest clubs on the continent. The games between the two sides will always remain an all-time classics and it's easy to see why.
Back in the day Ajax could count on some of the finest players of the generation, as Clarence Seedorf, Frank Rijkaard, Jari Litmanen, Edgar Davids, Patrick Kluivert, Edwin van der Sar, Marc Overmars, Danny Blind, Nwankwo Kanu and the De Boer brothers among many others were all part of Louis Van Gaal's dream team.
Despite the fact Ajax no longer possess the world beaters they had almost three decades ago, the Eredivisie leaders have an interesting mix of veterans and some of Europe's finest young players in their ranks. With the upcoming Champions League quarter-final clash between them promising to be a refreshing and at the same time a nostalgic encounter, it's worth taking a closer look at Ajax's best players.
Just like in the 90s, the attack poses the biggest threat, so Juventus should be extremely wary of Ajax's attacking trident of David Neres, Dusan Tadic and Hakim Ziyech. The trio has scored a remarkable 60 goals in all competitions between them and possess a never-ending energy, which perfectly compliments the high-pressing game that Erik ten Hag has established.
Despite the lack of a notable physical presence, the trio seem to compliment each other perfectly, as Tadic's intelligence and ability to play with both feet allows him to move between the lines and quickly find his teammates into dangerous positions. Then the tenacity and skill of Neres and Ziyech are usually able to either finish off the move or pass it back to the Serbian.
Tadic is arguably the most important piece in Erik ten Hag's attacking puzzle, as at 30 years of age the former-Southampton forward has enough experience, but at the same time is still mobile enough. This allows him to drift out of position, something that he does very often, and open spaces for the fast Ajax wingers. Tadic's preferred zone is the channel between the opposition's right centre-back and full back, so Joao Cancelo who is expected to start for Juventus should avoid leaving spaces between himself and Leonardo Bonucci.
There's a certain similarity between the Serbia international and Jari Litmanen, as the Finnish legend was equally efficient with both feet and similarly to Tadic was able to open up spaces thanks to his exceptional vision and technique back in the 90s. However, there's been a certain added edge to Tadic's game this season, as he has banged in a remarkable 30 goals in all competitions.
Considering that the other strikers in the team - veteran Klaas Jan Huntelaar and 21-year-old Kasper Dolberg have added a further 27 goals, Ajax's attack looks more than impressive this term.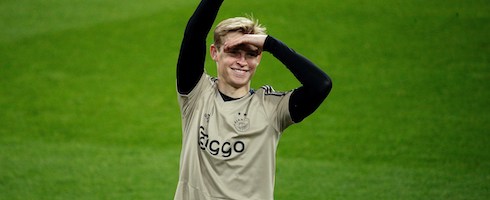 It is obvious that such figures cannot be reached without an efficient midfield and there's little doubt that Ajax has that in the form of veteran Lasse Schone, youngster Frenkie De Jong and Donny van de Bek, who provides the box-to-box movement. De Jong is the main playmaker and considering his performances, it is no surprise that Barcelona have already secured his signature for the summer.
At just 21 years of age, the Dutchman has averaged 79 passes per game with a success rate of 91.2% this term. De Jong's main task is to distribute the ball quickly, but he also has the ability to dribble past an opponent when needed. There is an unbelievable sense of maturity and composure coming off De Jong's game, which adds a remarkable ease to his game, so it is no coincidence that the Ajax starlet is already drawing comparisons to Andres Iniesta.
However, De Jong is not the only talented and cool-headed youngster in this Ajax team, as 19-year-old captain Matthijs de Ligt has been the most discussed player of the team since the start of the campaign. Just like Ajax the Great from the Greek mythology, De Ligt is a towering figure with supreme intellect and maturity well beyond his tender age.
Captaining such a historic club as a teeneger showcases how strong, composed and motivated the defender is. Based on current form De Ligt should be considered as one of the best man-markers in European football, so the battle between him and Cristiano Ronaldo, who recovered from his muscle injury and is expected to start for Juventus, promises to be a mouthwatering one.
Keeping in mind how good De Ligt is at the moment, it's scary to even think how much better he can get. Therefore it's obvious why Barcelona and Juventus have strong interest in signing the the Ajax captain.
With both Ajax and Juventus going through some rough periods since their epic battles in the 90s, many hope that tomorrow's clash at the Johan Cruyff Arena will mark the revival of the historic rivalry between the two sides.
Juventus clearly start as favorites, but quality of the forgotten Dutch giant should not be underestimated.
Do Not Exclude From Feeds
Watch Serie A live in the UK on Premier Sports for just £9.99 per month including live LaLiga, Eredivisie, Scottish Cup Football and more. Visit: https://www.premiersports.com/subscribenow [13]