The Stadio San Paolo dressing room saga [12] finally seems to be over with Napoli President Aurelio De Laurentiis inspecting the work done.
The row erupted on Wednesday when Carlo Ancelotti released a statement [13] via the official club website slamming the local council for failing to complete the refurbishment on time.
However, the authorities always maintained it would be ready for Friday [14], the actual deadline for handing over the keys, and that does seem to have been respected.
President De Laurentiis, Vice-President Edoardo De Laurentiis and President of the Region Vincenzo De Luca took a tour of the stadium this afternoon.
They saw the new-look dressing rooms, all painted in blue and white colours, including massage tables and a jacuzzi.
Consequently, the Lega Serie A also made the formal step of changing the 'home' venue for Napoli back to the Stadio San Paolo after it had been temporarily assigned to Bologna's Stadio Dall'Ara as an emergency placeholder in case of delays.
It means Napoli will be able to host Sampdoria in Serie A on Saturday and Liverpool in the Champions League on Tuesday.
Liverpool manager Jurgen Klopp had been asked about the controversy today.
"I trust in this case UEFA enough that they will sort enough for a shower and a space to change, I don't want to make something bigger than it is. As long as the pitch is there, we can still play. We only go there and accept circumstances."
Image credit: @calcionapoli24 Twitter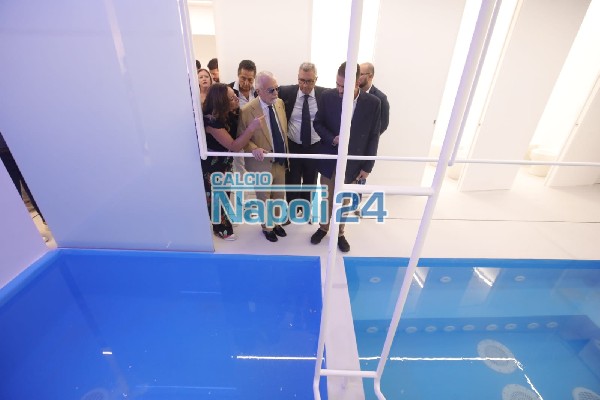 Enable Scroll-To-Play Video
Do Not Exclude From Feeds
Watch Serie A live in the UK on Premier Sports for just £11.99 per month including live LaLiga, Eredivisie, Scottish Cup Football and more. Visit: https://subscribe.premiersports.tv/ [15]