Now that Euro 2020 is postponed to next summer, Wayne Girard takes a look at some Italy players who are frankly overjoyed about that delay.
As we all know by now, the Euro 2020 tournament has now been postponed due to the coronavirus pandemic. The Azzurri and its fans were looking forward to this more than any other tournament since the 2006 World Cup. A rejuvenated talent pool not seen since those heights some 14 years ago, they were one of the favourites to win it. Yet this season, it became apparent that several of the planned-to-be-breakout-stars needed just a little bit more time to develop, mentally and/or physically, facing dips in form and injury crises at the blossoming of their careers.
Nicolò Zaniolo (Roma)
Nobody is more grateful for the Euro 2020 delay than Roma's scintillating attacking midfield talent, Nicolò Zaniolo. At a time when the Giallorossi needed an offensive spark, the 20-year-old lifted them up in several matches. Driving play forward from central and right-flanked-locations, his size and pace saw him whizz past midfielders and defenders alike to help Edin Dzeko and co. Then, just as the Lupi were fighting back against Juventus, the club's injury plague continued - a full ACL tear.
Before the season came to a hiatus, there were questions of whether or not Zaniolo would be fit for Euro 2020. This unnerved some fans, who worried he would be returning too early. Now, young Nicolò will have an extended recuperation, which can only benefit him for the tournament, but also for overall health throughout his career.
Stefano Sensi (Inter)
One of the players Antonio Conte specifically requested for his new Inter, Sensi acted as the pendulum to link the defence to the attack. His liquid movement helped confuse the opposition, as he continuously slipped between the lines.
In fact, in his first six matches he scored three goals and created four assists. In his Inter debut, Sensi scored a cracker against Lecce - more a Brazilian ballet than football movement. Yet also against Juventus, Sensi's luck turned upside down, as he suffered a tear in his adductor.
It's unknown if Inter will make him a permanent player due to the injury and signing of Christian Eriksen. Nevertheless, he has emerged as one of Italy's most talented midfielders and come next season he can use this downtime to ensure he's a starter on any team he plays for.
Gianluigi Donnarumma (Milan)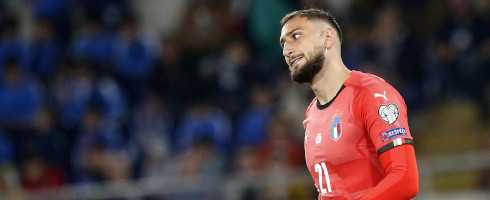 Since Silvio Berlusconi relinquished the club in 2015, new investors and owners have repetitively coined the new season as "Year Zero," while hiring and firing a host of managers, with questionable transfers and seemingly minimal strategy. One of the few, if only, bright spots of the last half-decade for the Rossoneri has been Gianluigi Donnarumma.
While the 21-year-old has seemingly been around for ages, his shot-stopping prowess sometimes allows his coach and fans alike to forget that he's still learning. His positioning is one facet that he can improve greatly upon with the right training, but it's subjective whether or not he can still keep learning and maturing in his "transitional" club.
A move to a top team would expose Donnarumma to new partners and staff. If he makes like a sponge and soaks up a new experience, it would only pay dividends for the Azzurri in the long run.
Davide Faraoni (Verona)
A sprain and damage to the medial ligament is never what you want to hear for a middle-aged player, and typically, breaks are easier to handle. It's a precarious situation when you're tipped for a bigger club at the next transfer window, about to enter the national set-up, and then rushed back to the fold. At least in this instance, Faraoni will be ensured a full recovery.
A player who has become a mainstay for Verona on the right flank, the 28-year-old has been late to arrive on the scene, but has since become one of the most impressive wing-backs in the league. His athletic performances mean he could be involved in Roberto Mancini's final roster come next year, and could enter into competition against another question in Mattia De Sciglio.
Gianluca Mancini (Roma)
A casual observer might consider Mancini's season to be hot and cold, but a more researched look would explain his highs and lows. Partnered with Chris Smalling, the pair have made one of the most formidable duos in Serie A. However, Roma's injury woes caused a carousel of rotation, that opened up holes in the midfield, and subsequently the defence.
Aside from moonlighting (quite efficiently) during a midfield crisis, Mancini paid the price for Amadou Diawara's injury absence. It was apparent that the midfield director's absence had given more space to the opposition between the midfield and defence, drawing Mancini out of line.
In the near future, Mancini will become a fantastic centre-back for his country. Some time to observe tactics and strategy, as well as intellectualise the role in his current partnership will do him well.
Do Not Exclude From Feeds