At a time when Serie A was full of world-famous players and super clubs, Verona pipped them all to produce the ultimate Scudetto fairy tale...
Words: Livio Caferoglu
Image credit: HellasVerona.it
"It all started in September 1982 at Roma, in our second season," Domenico Volpati, the oldest member of Hellas Verona's only Scudetto winners, said on the 33rd anniversary of their historic afternoon in Bergamo. "Beaten by a Falcao penalty in the 92nd minute, we cried in the locker room like children. That marked the birth of a great team. Pride, heart, attachment to the shirt, respect and a grandmaster of football and life: Osvaldo Bagnoli."
When you think of unlikely title successes in football, Claudio Ranieri's Leicester City immediately spring to mind. What the Foxes did will almost certainly never be repeated by a Serie A club, yet one preceded them. Unlike Leicester, who took full advantage of an uncompetitive Premier League and a very rich owner, Verona won the 1984-85 Serie A championship when Michel Platini, Diego Maradona, Zico and many others were at the peak of their powers.
Whereas Leicester's title triumph came during just their second season back in the Premier League, Verona returned to Serie A three years before, under the tutelage of coach Bagnoli. The Milan native took over the Gialloblu in 1981 and, at the end of his first term, led them back into the top tier of Italian football. That was followed by two top-six finishes and consecutive Coppa Italia Finals, which Hellas lost to Roma and Juve.
Bagnoli had built a burgeoning squad of local lads and players with points to prove, but elite experience was the missing ingredient. With that in mind, Verona snapped up Germany defender Hans-Peter Briegel and Denmark striker Preben Elkjaer-Larsen, two stars of the 1984 European Championship. The capture of Elkjaer was particularly remarkable, given Hellas had to beat off competition from sides such as Milan and Real Madrid.
"We were keen on tapping into the motivations of players who felt ignored by their clubs," Bagnoli told La Repubblica earlier this year. "[Antonio] Di Gennaro had [Giancarlo] Antognoni ahead of him at Fiorentina, [Pietro] Fanna had [Franco] Causio at Juve. With us, they were free and indispensable. And then we struck lucky with the foreigners, Briegel and Elkjaer. That was when players were men. We loved each other then and still do now."
The key to Verona's success was organisation. Bagnoli insisted on having a tight-knit group of only 16 outfield players and two goalkeepers, cultivating a close relationship with each of them. He was a no-frills coach who prided himself on clarity, tailoring his tactics to the characteristics of his squad. Although he came from the Catenaccio school of coaching, his Verona team broke at breakneck speed and attacked opponents like an atomic bomb.
Bagnoli seemed to strike the perfect balance of drilling his players without suffocating them. They were given the freedom to thrive, starting from the all-action Claudio Garella between the sticks. In defence, Roberto Tricella was more akin to a deep-lying playmaker and Pietro Fanna enjoyed a free role out wide, with Briegel bringing the steel. Antonio Di Gennaro oozed class and creativity as the No 10, behind Elkjaer and the nippy Giuseppe Galderisi.
Even without Verona's shock Scudetto, the 1984-85 season would go down in the history books. The summer of 1984 saw Italian sides scramble to sign foreign players from abroad before a three-year ban was imposed on overseas arrivals. The '84-85 campaign was also the first in Serie A history and only one of two ever that assigned referees through a random ballot, consisting of six groups of four officials for each fixture.
Verona kicked off the campaign against Napoli, who were handing a debut to none other than Maradona [13]. All eyes were unsurprisingly on the Argentine, yet it was Hellas' own new recruit Briegel who drew first blood from a Fanna cross. The hosts went on to win 3-1 after Galderisi netted a tap-in and Di Gennaro headed in a corner, capping off a performance that came to define Bagnoli's boys during their title charge.
The Veronese went from strength to strength, going unbeaten in their first 14 games to end the calendar year top of the table. Among that sequence of results was a 2-0 victory over Juve, whose squad was so jam-packed with talent that Platini was only a substitute. Galderisi grabbed himself another goal, but the pick of the bunch was scored by Elkjaer. Leaving two markers for dead, the great Dane fired past Stefano Tacconi with a famously bootless right foot.
The title was arguably sewn up on February 17, 1985. That morning, six Verona players were struck down by a fever, just hours before they were due to play Inter. The floodgates were feared to have opened when Alessandro Altobelli belted the Nerazzurri ahead, yet Hellas somehow soldiered on, absorbing copious amounts of pressure – and hot tea at half-time. Three minutes into the restart, Briegel's header salvaged the Scaligeri a 1-1 draw.
From there, Verona showed the spirit of champions, grinding out wins, battling to draws and losing just once more – to second-placed Torino. The two scrapped it out until the 29th and penultimate round of the Serie A season, with the Gialloblu four points clear and the fate of the Scudetto in their hands as they travelled to Atalanta. Nerves almost spoiled their big day, as the home side took the lead through Eugenio Perico's free header.
However, another Bagnoli pep-talk at half-time did the trick and Elkjaer emulated fellow foreigner Briegel, not only rescuing Verona with a hard-hitting equaliser, but also handing them their first-ever top-flight title. A week later, they fittingly lifted the Scudetto in front of their fans with an emphatic 4-2 win against Avellino, posting 42 points from 15 victories, 13 draws and just two defeats in their 30 league games.
For the first time since 1969, none of Juve, Milan and Inter finished in Serie A's top two – something that has not happened since. More impressively, three Verona players were ever-presents throughout the season and Hellas conceded a league-low of 19 goals, at a time when Italy's big three had some of the world's greatest defenders in their ranks. The Bianconeri won the European Cup that season, but even they were no match for the unbreakable bond of Tricella, Luciano Marangon and Silvano Fontolan.
Bagnoli stayed at the helm for six more years, leading them to the second round of the European Cup and the UEFA Cup quarter-finals, but there was to be no more domestic success. With his title-winning team broken up piece by piece, he left in the summer of 1990 following their relegation to Serie B. The Veneti have since become one of the Peninsula's premier yo-yo clubs, constantly hopping between the top two divisions.
The tactician bounced back with Genoa, taking them to the last four of the UEFA Cup, before he guided Inter to a runners-up Serie A finish in 1993. Midway through the '93-94 campaign, he retired from management at the age of just 59, having paid the price for poor results and run-ins with Dutch stars Wim Jonk and Dennis Bergkamp. Still, in 2018 he was named Verona's honorary President and inducted into Calcio's hall of fame.
"I still go to see Verona because the President gave my wife and I stadium passes, but I often stay at home and watch their games on TV," he later admitted. "I think about my health because I'm not so well these days. Unfortunately, I've lost my memory and there are some things I don't remember. On the other hand, I can remember the Scudetto I won." Needless to say, few will ever forget the Mastini miracle.
Serie A 1984-85 Table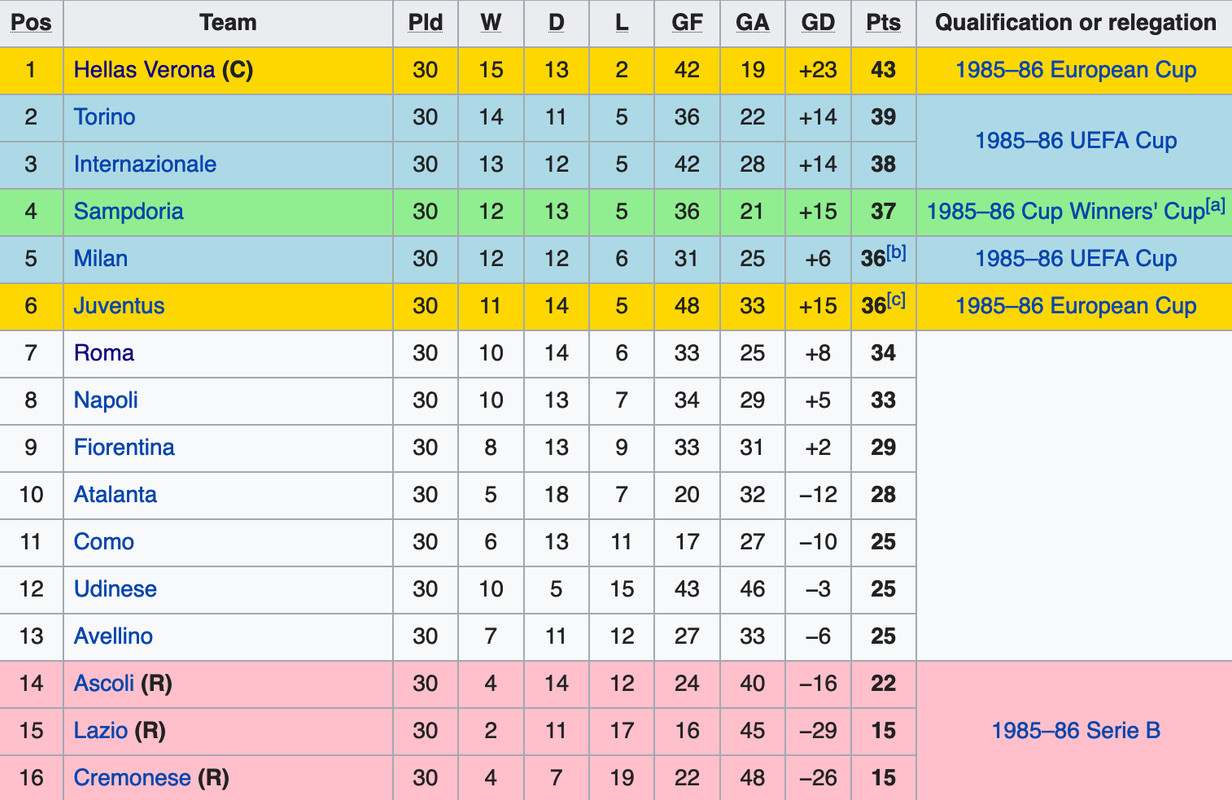 Credit: Wikipedia
Serie A 1984-85 Scorers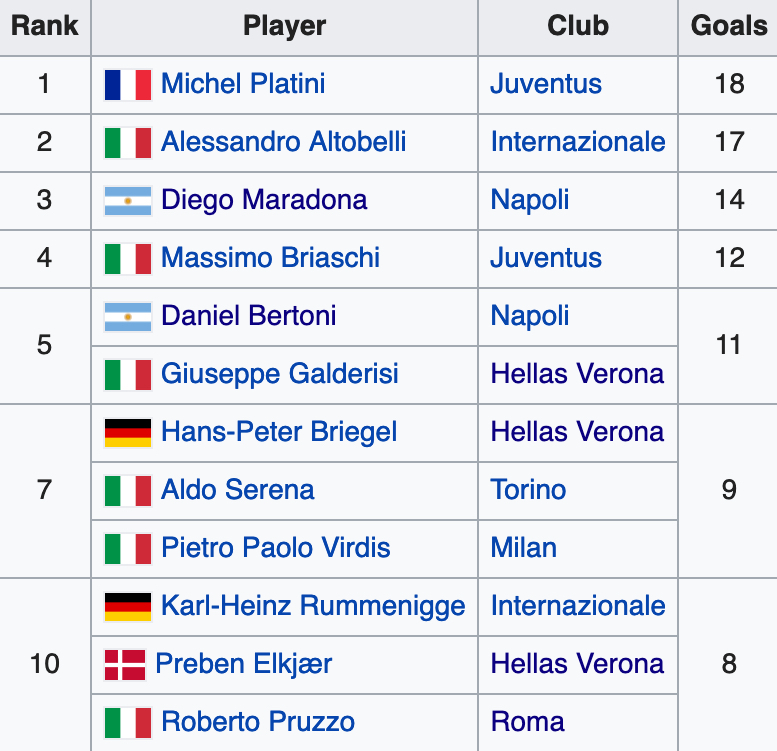 Credit: Wikipedia
Do Not Exclude From Feeds