Inter can be rightly delighted with a win on their Champions League return, but Luciano Spalletti got his tactics wrong against Tottenham Hotspur.
Words: Tom Scholes
It was their first time back in the Champions League for six whole years, and on the return of Europe's elite competition to San Siro, Inter stole all three points from Tottenham Hotspur in dramatic fashion, coming back from a goal behind to win 2-1 thanks to a last gasp header from Matias Vecino.
It was as dramatic as you could get, especially after a wonderful volley from Mauro Icardi five minutes earlier to tie the game up, but whilst Inter fans will be loving the late victory - and rightly so - one can argue that, in fact, the late win only papered over some rather large and alarming cracks in this side.
Firstly, this review will focus mainly on Inter and their style of play/performance. Of course it would be naive to completely ignore the part Spurs played in this game, but Inter are the main focus and by the looks of the first period of the first half, you'd never had guessed that it was Inter who were making their Champions League return.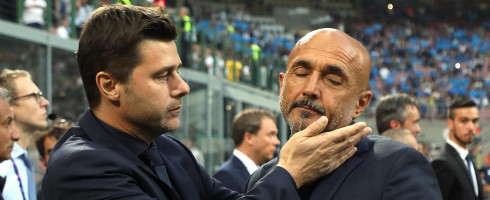 The selection from Luciano Spalletti - especially in defence - was set up to stifle Spurs and to hit them with pace in the full-back areas, mainly with Matteo Politano attacking Ben Davies and Ivan Perisic looking to try and exploit the defensive weaknesses of Serge Aurier. Mauro Icardi was expected to have a more withdrawn role, dropping deeper to allow Radja Nainggolan to bypass Mousa Dembele and Eric Dier, but it didn't quite work out like that with Nainggolan often being caught in a midfield battle and Icardi being left isolated, with next to no service. Playing Milan Skriniar at right-back to nullify the pace and threat of Heung Min Son was a smart idea and it definitely played a part in Son's early withdrawal in the second half, but it was Inter's pressing game that hurt Spurs most in the first half.
Much like Tottenham's recent loss to Liverpool, Spurs struggled in possession when Inter pressed them high, forcing them into simple errors that nearly created good opportunities. It was this pressing game that prevented Spurs from going further up the pitch but it also stopped Inter from getting in behind, because Spurs weren't leaving gaps for Inter to exploit , given they were being forced to sit deeper. This led to a situation in the first half where Inter were comfortable with Spurs rarely going forward, but nullified their own attacks because they were forced to take pot shots that didn't trouble Michel Vorm.
A lot of the pundits on the match coverage suggested at half time that Inter were there for the taking, which wasn't entirely true. Inter had done well to get into the break level, but their game dropped off considerably in the second half once Spurs found their own groove. Fitness levels were obviously not going to be able to sustain such an intense pressing game for the entire 90 minutes and when Christian Eriksen opened the scoring, it forced Inter to press forward. That in turn left gaps in their side that Spurs should have exploited with more end product. While I don't think Spurs created too many what you would call "clear cut chances", they certainly got into positions where they could easily have converted, especially when Lucas Moura came on to trouble Skriniar with his pace.
Once pace was injected into this Spurs side, Inter looked a completely different outfit. Spurs held more of the ball, they knew that Inter had to press them to win it back, therefore allowing the likes of Eriksen, Lamela and Lucas to run at a sound but slow backline. On any other day Spurs probably create a few more chances and punish Inter for what was, tactically, a poor performance.
Icardi was still isolated, trying to create space for the two wingers, and even though he managed to score the brilliant volley to level the score up, that only came about because he was wandering back from such a deep position to try and find some space.
Spurs controlled most of the second half but Inter found a way to win, even if it wasn't exactly how they intended to. Not that they'll care, because a Champions League win is so vital. But Luciano Spalletti should be concerned about his side's performance, because the dramatic win papers over the cracks. A better, more clinical side, beats Inter comfortably in this game, but that's how football goes. Tactically, Inter were poor but they found the mental strength late on to get all three points.