Inter lost to Tottenham Hotspur late on, leaving their Champions League hopes in the balance, but how did Football Italia rate the players?
Words: Tom Scholes
Samir Handanovic: - 6
Largely untroubled mainly down to both the Inter defence's stubbornness and the fact Spurs had trouble getting their efforts on target. Perhaps one of the only players for Inter who can come out without any major criticisms, Handanovic was solid even if it was due to the fact he was rather quiet for the majority of the night.
Danilo D'Ambrosio: - 5
Relatively irrelevant , something I don't usually say about a full back. Either a full-back plays well offensively or defends well when their side is camped deeper than normal, but D'Ambrosio offered nothing going forward and didn't really get involved too much in a defensive sense. Was Lucas Moura forced into the middle of the pitch? Yes, but I don't think that had much to do with D'Ambrosio's defending, more Spurs' frequency to drive inwards instead of using the flanks.
Stefan de Vrij: - 6
De Vrij played quite well and dealt with the presence of Harry Kane as well as any defender can. He got into a tussle with the Tottenham forward and very rarely let him get out of his touch, nor did he let Kane get too many shots off that were goal bound. He was taken off late on in the game for Miranda once Spurs went ahead, but I don't think there can be too much blame placed upon the Dutchman's shoulders given how well he dealt with one of the best strikers in world football.
Milan Skriniar: - 6
Similar to De Vrij, not too much can be said about Skriniar in a negative light considering how much work he had to do this evening and how well he, along with the rest of Inter's defence, kept Spurs out. With Tottenham moving more towards the centre of the pitch instead of using pace out wide, it meant that the two centre backs had to carry more of the defensive workload but Skriniar never looked out of place, never looked worried and never looked threatened by what Spurs had to offer. It perhaps wasn't until Christian Eriksen came on where the game changed from Inter's point of view, but Skriniar did well in the backline against opponents that have made other defenders look foolish at times.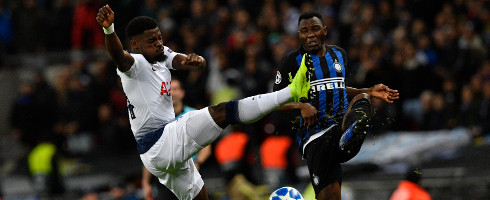 Kwadwo Asamoah: - 6
The commentary on this game kept highlighting how important it was for Inter that they had the experience and big game knowledge with Asamoah and during the first half, that experience showed when he dealt with various Spurs attacks well and did his job well. Was he outstanding? Not really, but there were times when he just held the ball up at left back, killed the play dead and took some steam out of Spurs. They don't have stats for anything like that, but it was a big part in why Inter managed to keep Spurs out for so long.
Marcelo Brozovic: - 5
The midfield was always going to be a huge factor in this game and by in large, Brozovic didn't really do anything wrong. That being said, he didn't do anything right. The game sort of passed him by when he really needed to get into tackles, get the ball from Spurs and try and create something or at the very least kill the clock. Inter set up to defend a 0-0 and they failed, but they seemed to forget that the midfield existed at times when Spurs ran most of their play through Harry Kane, who dropped deep, Moussa Sissoko and Harry Winks. Brozovic was a bystander in this game, maybe because of how Inter set up or because of his own personal performance.
Matias Vecino: - 5
I felt sorry for Vecino at times . He tried all he could to chase down and to do something in the midfield but he just couldn't do anything, nothing would stick! It wasn't helpful in his case that his midfield partners were either very unfit or motionless, and while he did enough to calm inter down a few times, there wasn't enough done in possession to make the calmness and ball retention count. Vecino did what he could, but it just wasn't to be for him at Wembley.
Matteo Politano: - 5
In a big game like this, on a pitch as big as Wembley, you need your fullbacks to track back and help out defensively. They can be as good as they want going forward but if they don't support the defence, you're in for trouble. For Inter and Matteo Politano, this was exactly the case . Going forward, he caused Spurs problems. In fact, you could probably make the argument that he was the only Inter player to cause Spurs problems going forward, but the bigger issue came defensively where he seemed to cause Inter problems…by not bothering to come back! He was taken off after Spurs had taken the lead but if he had come off shortly beforehand, could he have helped out on the goal?
Radja Nainggolan: - N/A
No rating for Radja as he wasn't on the pitch long enough to fairly judge him, but one thing to point out was he clearly was not at full strength today. It was a shame to see him hauled off so early on because he would've been such a difference maker for Inter, but not .
Ivan Perisic: - 4
After a wonderful World Cup, a lot was expected of Perisic and rightly so. But his form hasn't been as it once was this campaign and you could see that in all of it's glory. I don't remember him creating any meaningful chances, I can't remember him involved at all now, come to think about it. This was the type of game that was made for someone like Perisic, someone who could run up and down, supporting the full back but being on hand if a counter attack breaks out. This is what Perisic lives off, yet he couldn't do it on this occasion and proved to be useless when Inter needed him.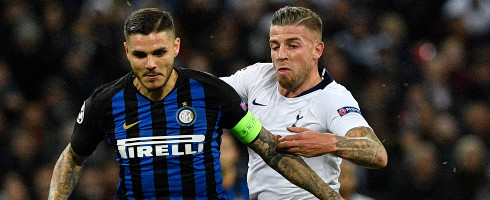 Mauro Icardi: - 4
Is a 4 too harsh for Icardi? Yes, because he hardly got a touch and was given no service. But is it harsh to give someone a low rating when they do absolutely nothing in the game? No it's not, and that's the problem Mauro Icardi faced. In the first game against Tottenham in Milan, he was on the periphery of the game, not getting any chances and not being fed any decent passes, but he bailed himself and his team out with a vital equaliser from the edge of the box. He had the exact same game , minus the goal. He wasn't involved, he made good runs but wasn't fed any passes, and the game flashed by without Icardi doing anything meaningful. Poor, but not too harsh considering the lack of productivity.
Substitutes
Borja Valero for Radja Nainggolan: - 6
A valuable player for Inter when he came on in the ball handler position, calming play down when Inter needed him too and creating passes moves that should have started attacks. The productivity may not have been what it could and should have been, but Valero was the influence the Inter midfield needed to get a grip of the game, and even if the attackers didn't do anything of note, the sole midfielder of Borja Valero tried all he could to create opportunities that perhaps were not there.
Miranda for Stefan De Vrij: - N/A
Keita Balde for Matteo Politano: - N/A