Kwadwo Asamoah spoke to Football Italia Chief Correspondent Richard Hall about his career, decision to leave Juventus for Inter and dreams for the future.
The 30-year-old first came to Italy with Torino in January 2008, going on to play for Udinese, Juventus and since this season Inter.
Asamoah has amassed 247 Serie A appearances, finding the net 12 times and providing 23 assists.
He has 70 caps for Ghana, in which he scored four goals, and his trophy haul includes six Serie A titles, three editions of the Coppa Italia and three Supercoppa victories.
Thanks for doing this interview, Kwadwo. You came over to Inter this summer from Juventus. At the time you said it would have been easy to stay in Turin, so what made you move?
"I had the opportunity to extend my contract at Juventus, and if I had wanted to, I could have stayed. However, when I thought about my future, and what was best for me, I decided to move clubs to get more playing time and because it's always stimulating to take on a new challenge in life. It's always important to put yourself out there. Inter showed that they really wanted me, which made me very proud and happy."
What were the first major differences you noticed when joining Inter? Did it take long to settle in?
"We're talking about two massive clubs. I didn't notice any big differences. I was made to feel very welcome by my new team-mates, the coaching staff and everyone who works in all the various departments. I felt very welcome straight away. It wasn't difficult to settle in – I felt at home at Inter right away."
You spent six years at Juventus, winning six Serie A titles, four Coppa Italia winner's medals and three Italian Super Cups. Inter are just starting out on a new project under Suning, so what do you hope to achieve in this new chapter?
"It's true that I won lots of titles at Juve, thanks to the group's winning mentality and mine too. A winning mentality is part of me and that fits perfectly with Suning's aim of getting back to the top in Europe and around the world, of consistently competing in the Champions League and of fighting to win the league once more. I believe in all of that."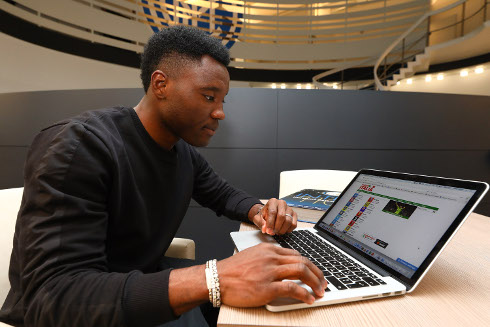 There are some big characters in the Inter dressing room. Who have you become close with?
"To be honest I got on with everyone from the start. Everyone was really open and friendly, so we quickly made some great bonds."
Your move to Inter has coincided with a recall to the Ghana squad after a four-year absence. What have been your best memories playing for the Black Stars?
"I decided to start playing with the national team again when I felt like I was in peak physical condition – that's when I decided to return. I need to feel like I'm at my best so I can give my all when I play for the national team and indeed at club level. Every minute I play for the national team gives me immense pride – it's an honour."
Going back to the start of your career in Ghana, how much did you believe you would make it in the professional game? Who were your major influences? How much did Charles Mensah Gapson, a scout, help you?
"Football was my passion from a very early age. I remember when I started playing professionally at around 17 or 18, some of my friends at the time mentioned my name to Charles Mensah Gapson, who came to see me. He took me to Liberty Professionals. He was very important for me."
Who were your heroes growing up? Who did you aspire to be like? Which players did you look up to?
"I really liked Adriano. I used to play as a trequartista and I'm left-footed like him, so my friends used to call me Adriano. They said my shot was as powerful as his! My mates in Ghana still call me Adriano now. I also really liked Andrea Pirlo."
As we've said, you've been incredibly successful – but what motivates you now? What drives you day to day?
"When I was a youngster, every time I saw the national team play, I dreamed of becoming just like them. Nowadays, I've got a taste for winning and I want to keep doing that – that's what motivates me now. I still have the desire to give the best of myself and keep showing what I can do. It's important to give 100% at all times."
Do you want to stay in the game after you retire? Is coaching an option? Do you have a philosophy about the way the game should be played?
"I'd like to remain in football when I hang up my boots. I'm not sure yet if I'll go down the coaching route, but I'd like to do a coaching course either way. I'd like to become an agent in order to help young players in my country and nurture their passion for football."
So far it's been an incredible journey with Udinese, Juventus and now Inter. Why do you think Serie A is such a special league?
"Serie A really is a very special league to me. Traditionally it's always been one of the best leagues – all my idols used to play here. I've been in Italy for 11 years and I like the football here. Because of the tactical and technical standard, if you can play here, you can play anywhere."